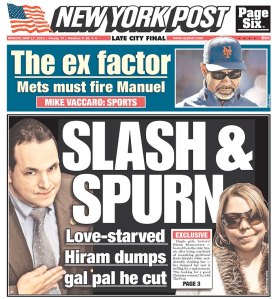 Andrew Cuomo's shortlist: Robert Duffy, Byron Brown, "Andrew Stewart-Cousins" and Denise O'Donnell.
Cuomo's girlfriend: Sandra Lee.
"Cuomo's silence on governor's race annoys pundits."
Cuomo will back Paterson's call for budget cuts, and oppose borrowing.
Cuomo, bucking Sheldon Silver, wants to raise the cap on charter schools.
Dan Donovan: "The experiment with one-party, absolute rule has clearly failed."
Kathleen Rice didn't "publicly" rebuke the District Attorney's Association for criticizing Rockefeller Drug Law reform.
Chris Lee responds to Obama's weekly address. "[A]ccording to the president's own estimates, our national debt will surpass the size of our entire economy."
Be careful who you interview. Hiram Monserrate "kept it flirty with one of the 20-somethings he met at the party, a Post reporter who later requested a formal interview with him."
Michael Bloomberg continues his push for charter schools.
Lisberg is skeptical of Bloomberg's economic policies.
Goodwin wonders if Bloomberg cares anymore.
Fernando Tirado will announce his state senate candidacy "within spitting distance" from Pedro Espada's house.
State Republicans convene before the convention.
Meet the scandalous Chris Cox.
Helen Sears: "I would never run alone as a Republican."
Civil ceremonies will be performed by the city clerk starting June 3.
So much for that loan for New York Racing Association.
Gatemouth writes a tome about Brooklyn.
The New Yorker meets Andrew Breitbart.
Geoffrey Gray rides around with Ray Kelly.
Sharpton opposes NYPD's stop and frisk policy: "It is inconceivable that the NYPD would spend so much money and manpower on this questionable tactic at a time when murder rates, robbery rates and other felonies are actually on the rise in some parts of the city."
And anybody not comment on Felix Gillette's story?