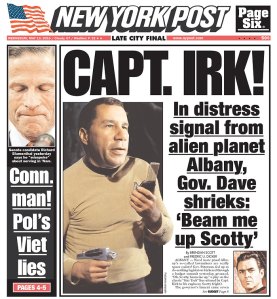 Yesterdays elections went to outsiders.
WSJ: "voters showed they were ready to sever ties with candidates too closely identified with Washington and its political leaders."
Local impact on New York?
Michael Roston: Doug Hoffman crows.
Phil Anderson: None.
Daily News: "If the Republicans seize control of either chamber, Obama's legislative agenda is pretty much shredded."
John Podhoretz: "The point is not that every incumbent is vulnerable — certainly Chuck Schumer isn't — but that every incumbent might be."
"Unsatisfying" is how The Times described Richard Blumenthal's press conference yesterday.
House Democrats will ease regulations in a bill from Chuck Schumer regulating PACs.
Former FEC commissioners hit Schumer over the bill.
Tim Bishop and Mike Arcuri's races are getting more competitive, but Dan Jacoby is optimistic they'll win.
Jerry Skurnik disagrees with Carolyn Ryan, saying he "always thought state attorney generals have a pretty good record in elections."
Eliot Spitzer hits Joe Bruno: "You always had that sense about him, that he was in this to get money in his pocket."
Legislative leaders discuss the budget. "At times, the meeting took on the feel of a high school detention room."
John Sampson said "we need to go through it." David Paterson replied, "That's what I would have thought would've been going on for the last six weeks."
Andrew Cuomo hints at big budget changes, telling Michael Goodwin, "An adjustment this large is going to be painful."
Carolyn Maloney's poll shows Carolyn Maloney leading her Democratic opponent.
Conservatives leapfrog over Republicans.
Louise Slaughter has a problem with Elena Kagan's abortion memo.
Robert Morgenthau wants a more nuanced approached to immigration than what Arizona is doing.
Dan Donovan campaigned in Rochester.
Teachers union offers $200,000 to a Craig Johnson challenger.
Randi Weingarten, more powerful than Arne Duncan, says the Post.
Michael Mulgrew said Bloomberg can spare teachers from layoffs.
Kathleen Rice gets a lot of money from Weitz & Luxenberg, a major law firm with ties to Sheldon Silver. She also employs the son of one of the firm's partners.
Mike Allegretti "strongly oppose[s] sanctuary cities."
Maureen Dowd: "Kagan has told a friend in the West Wing that she is not gay, just lonely."
A Herkimer blogger has a problem with a Herkimer poll.
And above are the front pages from a couple of papers today.