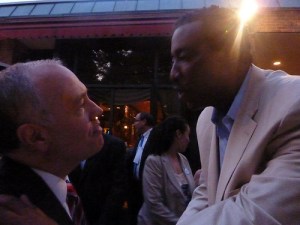 AP: "Democrats are virtually assured of holding New York after successfully recruiting Andrew Cuomo."
The Star Ledger says Democrat Andrew Cuomo sounds like Republican Chris Christie.
Arthur Schwartz says so too.
Phil Fairbanks looks at Cuomo's HUD record.
The GOP convention is about control of the party, not picking a winner, says Fred Dicker.
Replacements for Ed Cox: Ed Lurie, Ray Meier, Tony Casale.
Haberman says a failed coup could empower Cox. And there's a push to get Blakeman and Malpass on the ticket in response to DioGuardi's ascension among Conservatives.
Steve Levy is optimistic: "When we add up those who have publicly committed and those who have privately committed, we feel we're in a very good place."
Anybody want to run with Levy?
The effort to block Lazio at the Conservative convention.
Spector: "Cuomo, however, hasn't indicated that a Democratic-controlled Senate is a major priority."
Troubled lawyer Ken Starr gave to Cuomo, and other electeds.

Starr gave Cuomo $79,000.
Kathleen Rice flew to Florida to meet Tom Golisano. And the Independence Party votes for an attorney general candidate on June 5.
FYI: Independence Party operative Steve Pigeon casted a vote for Rice at the Democratic convention.
Goodwin's warning to Cuomo: The "the Independence Party and Rice's ties have the potential to damage his reform cred."
Bloomberg doesn't want Morgenthau overseeing FDNY's minority recruitment efforts.
Former Bloomberg aide Esther Fuchs says fund the public advocate's office.
Bloomberg aides don't want to talk about one of Bloomberg's biggest initiatives.
After Vito Fossella said no, Guy Molinari caught flack.
Basil Smikle doesn't take his blazer off.
Bill Thompson, John Liu and Bill de Blasio each may owe six-figure fines for posturing.

New York is getting more federal money for hospitals than any other state.
The Post: "[David Paterson] ended up approving a bill that raises millions in new taxes and business fees. This, just days after the Democrats' new gubernatorial candidate, Andrew Cuomo, pledged not to raise taxes."
Daily News: "The bottom line is that vacancy decontrol is working as intended and needs no fixing."
Shepard: "I covered Cuomo during the 1990s as a national urban affairs writer for the Associated Press when he served as housing secretary under President Clinton. And I learned that two words sum him up: smart and ambitious."
Fun pool reports. "How is this a security breach?"
Seth Lipsky reads the "cult classic" book about monetary policy in the U.S. constitution, and, naturally, drives to Virginia to meet the author.
Michael Powell visits the New Poor.
And pictured above is labor leader Norman Seabrook happily greeting State Comptroller Tom DiNapoli at the state Democrats' convention last week.