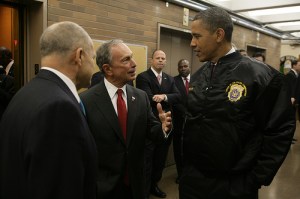 The Daily News says Obama has betrayed New York.
New York Post: "Obama to New York: Drop dead."
Anger from the street at reduced federal funding for New York from the Department of Homeland Security.
Obama was an economic optimist during his trip here.
A flirtatious woman who told Obama he was a "hottie with a smoking' little body" explained it was just "me being funny."
Upon reflection, the woman later said, "I feel like a total jerk."
Obama said the prior administration drove the country "into the ditch." Then: "Now they want the keys back."
Local Democrats feel a boost from Obama's visit.
Wall Street bigwigs skipped Obama's fund-raiser.
Term limits will be discussed at the Charter Revision Commission meeting, at 6 pm on May 25 at Brooklyn Borough Hall.
The budget for Michael Bloomberg's office will exceed expectation by eight percent.
Vielkind writes about the tough spot Neil Breslin is in, thanks to that furlough stuff.
More on that Rick Lazio and Andrew Cuomo radio show.
On scalping, it's David Paterson vs Craig Johnson.
Rep. Carolyn Maloney crushed Reshma Saujani at Village Independent Democrats.
Maloney swept up Gramercy Stuyvesant Independent Democrats.
Eric Schneiderman dominated the vote at Broadway Democrats.
Sean Coffey was on NY1.
Dominic Carter's analysis: "You can't sleep on Kathleen Rice."
Bill de Blasio talks to Staten Island.
The MTA considers shutdowns to quicken repairs.
Some salaries at CUNY grow faster than others.
Prosecutors want 11 to 14 years for former State Senator Efrain Gonzalez.
Hiram Monserrate dropped his lawsuit to get his old job back.
Remember John Lindsay.
Two Republicans fight to take on Janele Hyer-Spencer.
In a fight with Doug Hoffman, rival Matt Doheny "has amassed a near-perfect record in GOP endorsements."
Hoffman has the conservatives.
The legal challenge to the Nov. 2 special election for Eric Massa's seat goes forward.
Greg Ball said he was sexually abused as a child.
Doug Biviano will run against Joan Millman.
Former Assembly Education Chariman wants separate funding for charter schools.
Bob Bondi is out.
And pictured above is Obama, Bloomberg and Ray Kelly, at One Police Plaza yesterday.