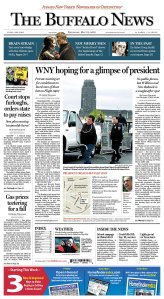 Obama visits New York, cuts security funding here by 20 percent.
"[T]hey just don't get it," said Chuck Schumer.
Mike Daly: "Well, Mr. President, maybe when you come to the city for a political fund-raiser today you can explain how you can allow cuts in funding to protect those of us who live, work and raise our kids in the terrorists' bull's-eye."
Buffalo News: "President Obama has no public events scheduled during his three-hour visit to Buffalo today."
One day, two elections for Eric Massa's seat: "Gov. David Paterson has announced he will formally call a special election in the 29th Congressional District on Election Day, a move that might mean people will have to vote twice for the same office on the same day, potentially picking among different fields of candidates."
Rochester Democrat and Chronicle also explains the complication.
New York Post: "The Wall Street Journal's decision to feature a front-page photo of Supreme Court nominee Elena Kagan playing softball has ignited a national discussion about why people assume that women who play the field are lesbians."
Andrew Cuomo opens a parallel investigation into whether eight banks duped credit raging agencies.
Judge blocks furloughs, citing "irreparable harm."
"Judge Kahn also ordered Mr. Paterson to include raises that state workers were supposed to get as part of their contract in future emergency bills that are keeping state government operating until a new budget is adopted."
Diane Savino says now lawmakers aren't likely to pass Paterson's proposals.
The AP notes Sam Hoyt's voluntary furlough.
Michael Bloomberg: ""I changed our budget and gave Bill de Blasio the money that Betsy wasted and didn't have the right to do so." Gotbaum's response: :"Is he trying to destroy me?"
Stop-and-frisk numbers are high for African-American and Latinos, not so high for among whites.
Rick Lazio said Andrew Cuomo has Eliot Spitzer's personality: ambition.
John Liu considers severing NYC ties to Arizona-based companies.
Peter Rivera supports lifting the cap on charter schools.
Paterson: "I've returned every phone call that every legislator has made to me."
Mike Long said Matt Doheny ducked the race two years ago, so he's not backing him now.
The American Spectator wonders if Republicans will join Long in backing Doug Hoffman.
The WSJ gives an overview of Mike McMahon's re-election race.
Vito Lopez is running Steve Levin's spokesman, and another insurgent, for district leader against Jo Anne Simon and Alan Fleishman.
Lopez may get challenged for his own district leader slot.
And above are some front pages from upstate newspapers.