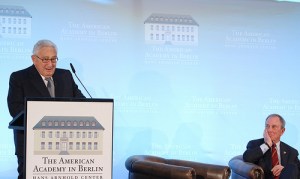 Previewing Obama's visit to Buffalo.
It's only three hours.
Sheldon Silver declined to shake a Republican's hand to avoid a photograph of them appearing on-line, writes Judy Randall.
The New York Times: "The United States will probably not face the same kind of crisis as Greece, for all sorts of reasons. But the basic problem is the same."
Pay increases to David Paterson press aides raises criticism.
Even with the raises, the payroll for Paterson's press office dropped by more than $300,000.
Dan Cantor: "We have every reason to believe that Andrew Cuomo will be the Working Families Party's nominee for governor."
Rep. Peter King has "no doubt" Vito Fossella is considering a run for his old seat.
Devlin Barrett: "Mr. Fossella's re-entry into New York politics could cause divided loyalties for some, particularly the current mayor, Michael Bloomberg, who had been supportive of Fossella in the past but since his departure has praised McMahon's work in Congress."
Wrobleski says it's mostly talk.
More on Bill de Blasio's rebuke of taxing Wall Street bonuses.
Bloomberg wants to cut funds for de Blasio's office by 11 percent.
NYC's SCOTUS map.
Staten Island has SCOTUS envy.
The New York Post argues against paid sick days and prevailing wage legislation.
Cory Booker won; Sharpe James' son didn't.
Barbaro hangs out with Gillibrand and Rachel Ray, in Washington.
Rep. Carolyn Maloney is attending Obama's fund-raiser tomorrow, but not co-hosting.
And pictured above is Bloomberg, in Germany, getting the Kissinger Award and listening to the man himself.