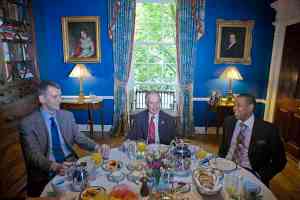 Two billionaires–and one other very wealthy man–had breakfast at Gracie Mansion this morning.
Mikhail Prokhorov of Moscow, left, made his fortune selling stone washed jeans, then precious metals.
Mayor Michael Bloomberg, center, formerly of Medford, Mass., made his fortune selling stocks, then computer stock terminals.
Jay-Z, nee Sean Carter, who grew up in the Marcy Housing Projects, built an empire selling drugs, then rap albums.