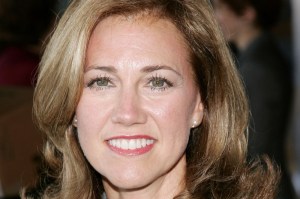 Having a private moment behind the velvet red curtains that close off the dining room at the Metropolitan Club, Silda Wall Spitzer was going over a speech, trying out the podium and smoothing the unruly strands (of which there are very few) of her hair back into place. She was there on the morning of Tuesday, May 11, to speak at a City Harvest luncheon. And as the vestibule filled up with attendees, Ms. Spitzer slipped off a black shawl and came out to mingle in a cream-colored skirt suit.
"My Mother's Day was terrific," she told the Transom when we asked. "We were upstate on the farm with our two daughters and we got a call from the third." Given that this was a benefit for an organization that delivers food to the hungry and teaches children about proper nutrition, we inquired about a typical dinner at the Spitzer household. "We try to eat healthy," said Ms. Spitzer, who nowadays juggles working as a managing director for Metropolitan Capital Advisors and serving on benefit committees like this one. "We typically have a protein, two vegetables and a starch." Anything her girls couldn't go without? "Sure, pasta! Very healthful, don't you think?"
Just then a bell rang signaling guests to take their seat. The Transom found itself at a table with socialites Gillian Miniter, wife of financier Sylvester; Susan Fales-Hill, a descendent of the Mayflower settlers; and Muffie Potter Aston, wife of plastic surgeon Sherrell Aston. The subject of Ms. Fales-Hill's upcoming novel about cheating upper-class wives arose. "You have all these scandals going on and I wanted to show the other side-it's not like the women are just sitting at home," she said.
A City Harvest driver was welcomed to the stage and told the group he was a waiter at an event just like this when he learned about the organization. "That was an inspiring speech," said Ms. Aston when he finished. "He was a waiter. Here." As the ladies nibbled on grilled salmon, Ms. Spitzer came over to lovingly squeeze a few shoulders. "I repped her first comeback event with Children for Children," said Leslie Stevens, founder of PR firm LaForce + Stevens, who was sitting to our right, referring to the first benefit Ms. Spitzer attended in 2008 since … well, you know. "I went to college with Eliot, so we're old friends."
"This is a wonderful organization," said Ms. Miniter across the table. "I heard a story where they brought a pineapple in and the kids didn't know what it was. They tried it, and they went home asking their parents, 'Where do we get a pineapple?' It teaches children about nutrition."
Changing topics, Ms. Aston told a story about how she recently left her baby sitter alone with her 5-year-old twin girls and when she returned, the twins told her that the baby sitter had gone outside for five minutes to see her boyfriend. We all shook our heads. Ms. Aston locked out the baby sitter and then let her go. Ms. Fales-Hill suggested a girl she knew as a replacement.
The conversation moved on to the murder of Yeardley Love at the University of Virginia; some of the ladies knew the parents of the alleged killer, George Huguely. Then: cyber-bullying and the general hardships of raising teenagers.
Around 1 p.m., Ms. Spitzer spoke from the stage about the importance of service and led a panel discussion with some high-school students. Two girls from Spence were especially impressive, which prompted Ms. Fales-Hill to whisper, "This is a nice counterpoint to what we were just talking about." She raised her hand to reiterate. "As a mother of young children, I just want to say that you give us hope, especially as we read these horrible stories of what teenagers do sometimes."