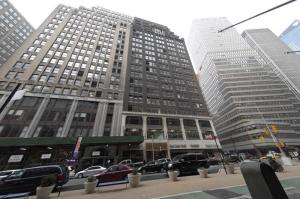 1385 Broadway
More than 200,000 square feet of new leases and renewals have closed at 1385 Broadway, a 23-story tower in midtown. In the past 12 months, 24 tenants have signed or renewed leases.
In new deals, Paris Accessories leased two floors totaling 40,000 square feet and the New York State Health Foundation took 17,000 square feet. Crumbs Bakery leased 1,300 square feet of retail space on the ground floor.
Jonathan Serko, Gary Greenspan, Diana Gaines and David Malawer of Cushman & Wakefield and Larry Lazerwitz of Cushman's Strategic Agency Services Group represented landlord B. Bros Broadway Realty LLC, an affiliate of Bloomingdale Properties Inc.
"Ownership is hands on and has completely revitalized 1385 Broadway," said Mr. Serko in a statement. "Now tenants are seeking out our availabilities not just for our location, but for the quality of the building and the quality of management, all of which affords meaningful value to existing and prospective tenants."