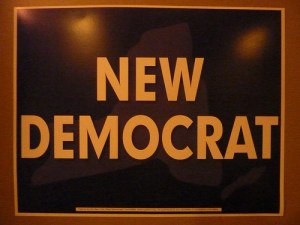 Andrew Cuomo has expressed something of a lukewarm reaction to organized labor, which is traditionally a major player in Democratic Party politics.
He's deflected questions about whether he'll accept the endorsement of the labor-backed Working Families Party, and publicly said Jennifer Cunningham—an operative with strong ties to 1199 SEIU and others—will have no formal or informal role in his campaign.
Another sign of the Democratic establishment not wholeheartedly embracing organized labor: The "New Democrat" and "New Democratic Party" signs do not have a union bug.