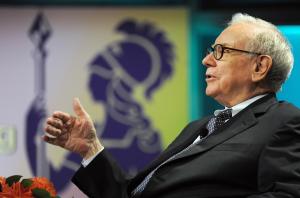 Warren Buffett, the Oracle of Omaha himself, said that it "blows your mind" how fast the newspaper industry has slipped into decline at his annual shareholder meeting in Omaha, Nebraska this weekend.
When he made the investments decades ago, newspapers had a wide "moat," in Buffett parlance, meaning that they had little competition (other than rival papers). Newspapers long were "the only game in town" for getting out information, as well as ads, Buffett said. With the rise of the Internet, that is now no longer the case.
Berkshire Hathaway vice chairman Charlie Munger also touched on the challenges facing local newspapers. "It's not good for the country," he said. "We're losing something."
Mr. Buffett has owned stock in The Washington Post since 1973 and served on that paper's board of directors, and Berkshire Hathaway owns the Buffalo News.
Some say that Mr. Buffett started developing his business acumen at an early age delivering newspapers in Omaha, working multiple routes at once and deducting his watch and bicycle as work expenses on his first income tax filing.