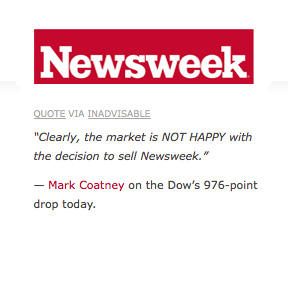 Earlier this afternoon, Slate's Big Money (owned by WashingtonPost.Newsweek Interactive Co. LLC, by the way) posted a column titled "It's Not the Economist, Stupid: Newsweek has lost its role globally and its voice locally."'
Newsweek may not be the Economist, but the magazine has not lost its voice.
"You don't just jump over the auto workers when GM is having problems," said Mark Coatney, project editor for Newsweek.com and the man behind Newsweek's Tumblr, the magazine's official unofficial blog. "We're no different from anybody else."
Coatney has been using the blog to respond to some of the criticism coming out against the magazine after yesterday's news, including Businesss Insider CEO Henry Blodget's $1 bid on the magazine.
"That was my flip response to their flip response," said Mr. Coatney.
"It's been nice to respond and defend ourselves," he said. "This has enabled us to have a voice and talk about things in a separate forum that doesn't seem as weird as the front page of Newsweek.com."
This morning Coatney responded to anonymous quotes from a Time Inc. executive touting the profitablity of Time that appeared in David Carr's column.
"We've talked this over with our business-side folks and have concluded that the technical term for this statement is 'bullshit,'" he wrote.
"I used to work at Time, and I know that when I worked there a lot of the costs of their website were put off in the central technology group," said Mr. Coatney. "You can do a lot with the numbers to make things more or less profitable. I'm sure Newsweek has an official position that's nicer than mine."
When asked if Coatney ever heard from Newsweek's official PR arm about his comments on Tumblr, he said, "They've been nothing but incredibly supportive."
For now Coatney is busy with the launch of Newsweek's new website.
"It's that weird thing where there's work to do and you still have to go back and do your job," said Mr. Coatney.
"My feeling is that — and kind of the general feeling I've gotten is that — everything is up in the air, especially on the website," he said. "We think we do a pretty good thing, and we think any buyer would feel the same way."