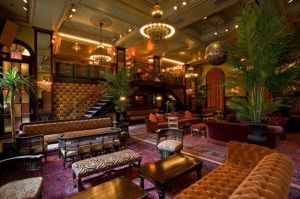 In the fall, the beloved Jane Ballroom in the West Village closed temporarily to obtain proper permits that the space lacked when it first opened last summer; two weeks ago, a more polite, well-behaved Jane finally reopened.
"It looks exactly the same, but it's super-roomy now. Just imagine one-tenth of the amount of people," said a fashionable 28-year-old DJ who was there last Thursday and Friday nights (fearing future exclusion from the premises, patrons surveyed by the Transom were reluctant to have their names printed). "Because remember? It used to get so packed you could barely walk around. I remember nights at the Jane dancing on tables. Now it's very tame."
There are a few other changes. "The music doesn't get loud at all-it's very lounge," said the DJ. "You can totally have a normal conversation." Meanwhile, smokers who want to light up are sent walking down the street. "They hate people smoking outside, so they make them go to the corner-like you literally have to go stand on the corner." Right near the West Side Highway, no less.
But the nightspot's regular patrons have loyally returned to the space at the Jane Hotel. Late last week, visitors spotted aspiring actress Becka Diamond. Also: Elle style director Kate Lanphear, Purple magazine's Olivier Zahm and Harper's Bazaar's David Thielebeule. On Saturday, May 8, there was the mandatory Olsen twin sighting (Mary Kate).
"I think it's much better now," said a 32-year-old editor at a monthly fashion magazine. "It got to the point last year where you really couldn't move. It was like, 'Really? All I want is a drink.'"
So who exactly gets in now? "I guess it's more who I haven't seen there," said the editor. "I have this distinct memory of being in the bathroom and two stalls open and two of my interns emerged!"
"This is a kinder, gentler Jane," Sean MacPherson, co-owner of the Jane Hotel as well as Bowery Hotel and the Waverly Inn, told the Transom. "We were victims of our own success. If you look at the place, it's really built to feel like a living room, loosely based on places like the National Arts Club and Bowery Hotel. So we've just become more disciplined."
Mr. MacPherson conceded that the music is lower; the door policy more clenched; smokers are indeed shepherded far away from the entrance; and the doorman checkpoint has moved inside the hotel as opposed to the street-"so the comings and goings are just more contained."
He laughed when the Transom said that his guests were too petrified to give their names when talking to a reporter. In fact, earlier in the day, Mr. MacPherson said he received a text message from jewelry designer Waris Ahluwalia asking permission to speak. "I haven't had a chance to get back to him," Mr. MacPherson said. "That's funny. I'll text him."
Mr. Ahluwalia did not return the Transom's calls.