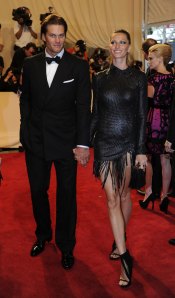 Arriving at Vogue's annual Costume Institute gala at the Met (theme: "American Woman: Fashioning a National Identity"), editor Anna Wintour emerged from a chauffered black SUV wearing a dove-gray gown covered in a Chanel silver-sequined jacket. It was the ultimate boyfriend blazer.
She was accompanied by her daughter, Bee Shaffer, in floor-length, ivory Balenciaga covered with gleaming black beads. Asked what she would get Ms. Wintour for Mother's Day, Ms. Shaffer looked puzzled and said: "Flowers?"
The Avatar actress Zoe Saldana came solo, in a one-sleeved black sheath whose tactile pattern of raised dots suggested Braille. Asked how she would be celebrating Mother's Day, Ms. Saldana replied over her bare shoulder, "Calvin."
Event co-chair Oprah Winfrey arrived with alliterative date Oscar de la Renta, who said of Ms. Winfrey's bespoke plunging neckline and cascade of navy ruffles, which he'd created: "It is very romantic. … Lots of ruffles, lots of cleavage—a real dress for a real woman."
Another woman escorted by the designer outfitting her was the model Amber Valletta, in azure RM by Roland Mouret. Of the difference between American and French women, Mr. Mouret told the Transom, "Les Americaines sont plus 'groomed.'" Yes: We bathe—and shave! Also Zoe Kazan, in and with Peter Som. "New York is a microcosm of America," Ms. Kazan proclaimed.
"There are so many different types of people here, I think it's just a more concentrated version of the rest of the country."
Sultry actress Eva Mendes wore a figure-sculpting Dolce and Gabbana fishtail gown patterned with oversize roses—only she could make Laura Ashley florals so sexy; while Up in the Air enchantress Vera Farmiga needed only a bonnet and a staff to complete her periwinkle, Little Bo Peepish Sophie Theallet for Gap gown.
"She's not talking," Gwen Stefani's publicist told the press, but the singer's dress, a L.A.M.B. design with tulle top over a black bra, accessorized with perky ponytail and hubby Gavin Rossdale, spoke volumes.
Sex and the City star Sarah Jessica Parker predictably donned glimmering apricot Halston Heritage (she is the creative consultant for the brand). Arranging her pleated skirt for photos, Ms. Parker's BlackBerry fell out of some unknown hiding place onto the red carpet. She shrugged.
Aussie actor Hugh Jackman, perspiring due to the humidity, arrived with wife Deborah Lee Furness. Asked the difference between the Australian woman and the American woman, he told the Transom coyly: "Ooooh, what time is this airing?"
We moved on to Brooke Shields, in neck-to-toe gold matte sequins, on the arm of Michael Kors, who did not remove his dark-tinted aviator sunglasses. Of the difference between the American woman and the New York woman, Ms. Shields told the Transom, "Oh, boy, that's a hard one! I think of New York as a melting pot." Mr. Kors elaborated: "New York is a mixture of all of America. It's just in New York, we do it faster!"
Iman, regal in Prada, answered the Transom, enigmatically: "Sportswear," and floated along.
"She typifies the American woman," said Calvin Klein, arriving with Carolina Herrera, of the New Yorkeress. "She is the American woman."
Mr. Klein embraced Karl Lagerfeld, shots of whom were being blocked by actress Elizabeth Banks, prompting photographers to scream furiously.
Food personality Padma Lakshmi wore a busty, feathered Roberto Cavalli frock and told the Transom giddily that she would be spending Mother's Day "with my baby, my cute baby!"
Another mom, Mariska Hargitay, was in Vera Wang. "No Spanx tonight!" she told a reporter. "I'm very proud."
More: Stella McCartney ascended the stairs flanked by her faithful cohorts Liv Tyler and Kate Hudson; the answer to the question of Ms. Hudson's rumored bosom enhancement obscured by a nude-colored side-slit number.
Jimmy Choo creator Tamara Mellon wore a white Versace number with circular and oval cut-outs that made her look like a piece of Swiss cheese. Her accessory for the evening, in addition to her shoes, was baby-blue–blazered Usher, wearing Tom Ford. What's the difference between the New York woman and the American woman? "Attitude," he said.
Around 7:45 p.m. was the power hour: a celebrity bottleneck reminiscent of the 405 freeway. Demi Moore, ageless in gold Lanvin; Jessica Biel, gorgeous in Ralph Lauren's backless ivory satin, and cuddling with Justin Timberlake; and Marion Cotillard, overheated in long-sleeved glimmering Dior and fanning her face in a gesture exaggerated for the press.
Everyone cleared the red sea for Janet Jackson, who was a study in dis-symmetry—she wore one black leather glove and one of her protruding breasts looked distinctly larger than the other. Elsewhere in bust news, Mad Men's January Jones—the guest of YSL's Stefano Pilati—wore a short fuchsia shift with curling black braiding and slicked-back hair, more Jetson than Draper.
Tom Brady kept trying to touch his svelte wife during photos, his hand lightly resting on her barely covered bottom. Gisele Bundchen wore a custom-made Alexander Wang mini in woven black leather. "Is it covering me?" she asked. "I keep checking to make sure it is covering everything."
What is the difference between the Brazilian woman and the American woman?
"I think Brazilian women, we are more voluptuous," Ms. Bundchen replied in her husky purr.
Diane Sawyer and husband Mike Nichols arrived around 8, Ms. Sawyer in Michael Kors, fresh off interviewing Mayor Bloomberg on the evening news. "I see you're wearing Louboutins," one reporter noted.
"I am?" Ms. Sawyer said good-naturedly. "Thank you for telling me! I actually didn't know!"
Asked his opinion on American women versus New York women, Mr. Nichols told the Transom, "I only know the New York woman."
P. Diddy emerged from a silver Bentley jacketless, while his valet squirreled his coat off its hanger in the back of the car. Helping his boss slip the jacket on with one hand, he deftly choreographed a lint roller over the back of the jacket as a final precaution. With an oversize bow tie and oversize sunglasses, Mr.
Diddy told a nearby journalist, "Tonight is about the two queens, Anna and Oprah. It's their night."
What does Mr. Combs think is the difference between the New York woman and the American woman?
"Ah, man," he said through his platinum grill. "I don't know."
SLIDESHOW: Irina Aleksander picks her favorite looks from the Met Ball >
cmalle@observer.com