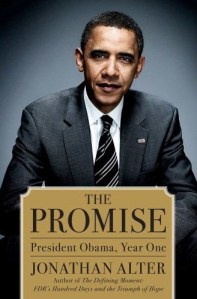 We nabbed Newsweek columnist Jonathan Alter just as he was chatting with David Rosenthal of Simon & Schuster, who published Alter's The Promise earlier this month.
Alter was on his way to "The Obama Book Club," a 2 p.m. reading with him and Steven Rattner. Rattner's book, Overhaul, deals with the president's auto bailouts; The Promise describes his first year in office.
Alter said he'd recently learned that his book will be at No. 4 on The Times' best-seller list to be published June 6. The only people ahead of him were non–New Yorkers, he added—so for The Observer's readership, that was basically No. 1.
And what about his embattled magazine?
Alter said he was "cautiously optimistic" that Newsweek would find a buyer.