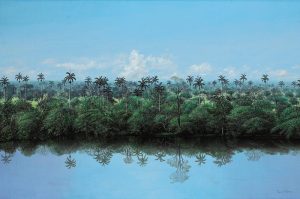 Tomás Sánchez paints lush, epic landscapes. Think the Hudson River School, with palm trees.
Cuban-born, and now living in both Miami and Costa Rica, he is quite a well-known name in his native country; he showed at last year's buzzy Havana Biennial. But the geographic and political isolation of that island has meant that, for some time, prices for Cuba's bigger-name artists have lagged behind those of prominent contemporary artists from other nations. That's changing, according to dealers and auction-house officials, as collectors bet that the Obama administration's more conciliatory stance toward Cuba-the president last year eased some travel restrictions, and has spoken about lifting the 48-year-old trade embargo-will boost visibility of and demand for their work.
Mr. Sánchez, as potential art stars go, is still relatively cheap. Though Mr. Sánchez shows at New York's Marlborough Gallery, which represents such noted artists as Fernando Botero, his four works up for sale at Christie's Latin American art auctions this week carry suggested bids starting as low as $20,000. This one, an acrylic on canvas dubbed Orilla (Spanish for the shore, edge or riverbank), starts at $60,000.
At first glance, this painting looks like a simple if pretty landscape, just an expanse of green and blue. (One reviewer wrote that Mr. Sánchez painted "enchanted forests.") But the artist illustrates each plant down to its leaves, with each swath of grass or spate of sand a little different from the next. The painterly attention to detail is paying off: Mr. Sánchez's record price at auction has more than doubled in the past several years, to $620,800.