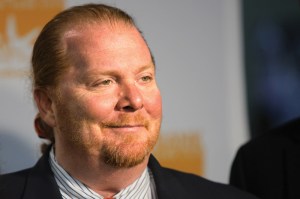 Drinks at the inaugural Manhattan Cocktail Classic gala at the New York Public Library on Friday, May 14, were served in real glasses-a classy touch that, combined with the library's abundance of wood tables, had the Transom hysterical over the lack of coasters.
The only famous person we could find there was chef Mario Batali, invited by a corporate associate.
"Never been to an event like this," he said. "I'm very impressed. I obviously didn't get the memo about the dress code. I believe I'm wearing, uh, Givenchy and Columbia." Gesturing at a well-proportioned young woman in a floor-length white dress, he said, "I think we're at a ball. And I'm wearing shorts."
Mr. Batali didn't seem remotely tipsy. "Some of the drinks are strong," he said. "Those are the ones I stay away from. The drinks I'm drinking are very light in alcohol." After an hour or so, it was boiling hot, and his shorts started to seem like a good idea. Outside, warm weather had finally returned, and he would be comfortable there, too. He pooh-poohed complaints of a recent cold snap.
"People misunderstand spring," he said. "Spring isn't summer. Spring is what happens between winter and summer."
Very wise, chef, very wise.