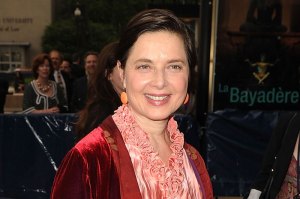 When we caught up with comedian Zach Galifinakis at the American Ballet Theater's spring gala on Monday, May 17, he seemed annoyed that he'd been noticed. And this wasn't the overstated peevishness that's helped him gain his newfound fame. It was the regular kind. "To be honest with you, I don't really know a lot about ballet," he said, tuxedoed, standing near the orchestra of the Metropolitan Opera. "This is a little bit of culture, and it's nice because nobody here recognizes me." Sorry!
But Mr. Galifinakis' presence at the gala was representative of a mood there that celebrated the younger elements in both the audience and the company. Caroline Kennedy, whose late mother was a board member, praised the ABT's efforts to engage a wider audience through touring. Then, accepting an award marking his 25-year trusteeship, billionaire David Koch spoke reverently of the "beautiful young bodies" that would soon grace the stage.
The whirlwind performance was a preview of 13 shows forthcoming this season, the company's 70th. Dancers were whisked on and off the stage, leaping from Vivaldi to Tchaikovsky to a heady piece involving the music of Robert Fripp, strobe lights and levitation.
After the show, guests dined in a massive tent in Lincoln Center, where Bebe Neuwirth called the evening "thrill after thrill after thrill." She'd handed out scholarships for the ABT during the meal and afterward spoke eagerly with all dancers who approached. "I entered ballet class at age 5 and in some ways I never left," she told us.
Actress Isabella Rossellini said that she particularly favored a hot-and-heavy sampling from a ballet based on the Dumas novel Lady of Camellias (opening May 25). She was seated next to the Met's general manager, Peter Gelb.
"I think it's great for ballet and opera to bring new audiences in. That's what the art form's all about," he said.
Can we count on him continuing to shake things up with that goal in mind?
"I'm staying on the course that I began."