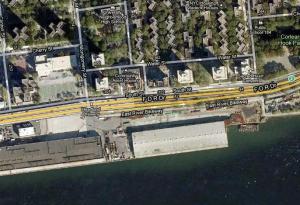 You can't have a park at Pier 42 without first having parking, apparently.
The New York City Economic Development Corporation plans to use around 100,000 square feet adjacent to the pier for storage space for movie studios, as well as up to 150 parking spaces, the agency said in a presentation last night to Community Board 3's Waterfront Committee. The effort, slated to begin in June, would raise revenue for a dedicated fund that would be used to maintain Pier 42 on Manhattan's East Side, and eventually turn it into a waterfront park, without the parking spaces.
The park project currently has no funding, said David Quart, vice president of development for EDC, at the community board meeting.
The usage is scheduled to begin in June and last for three years, and EDC is currently seeking movie studios who would occupy the space. Although revenue generation is still uncertain, Mr. Quart said it was an appealing use of public space because no lease or capital improvements were required, although it would cost $7,000 to $13,000 to prepare the area for parking, include paving and painting the surfaces.
"It is something you can do on a short-term basis," he said.
In addition, the area is appropriately zoned, making usage "as of right" and not requiring additional approvals.
Development of the East River waterfront was largely initiated in the wake of 9/11, when the area received $150 million of funding from the federal government's Department of Housing and Urban Development.
But the majority of that money has been used in the southern half of the area, which goes from Pier 42 to the Battery Maritime Building at 11 South Street, according to Mr. Quart. He cited the costs of marine build-outs as the reason for the imbalance, but exact allocations of funding have not been disclosed, since the public bids are not complete.
Rising costs have been a concern with the East River waterfront project. An ambitious plan to build as many as six pavilions along the East River has been scaled back, and now a total of two pavilions and two esplanades are planned.
While the East River waterfront has been developed somewhat, Pier 42 is still barren, much to the ire of the community, which has been pushing for the park for eight years. As with any development, the main problem has been funding.
"It is an issue all around the city, especially in this economy," said Mr. Quart. (Hudson River Park and the High Line have also suffered from lack of funding.)
The city shopped around Pier 42 in a request for proposal in 2008, hoping to attract revenue, but did not receive any responses, according to Mr. Quart.
Although Community Board 3's Waterfront Committee voted to recognize and favor the creation of storage and parking spaces for no more than three years, community members in attendance had a mixed reaction.
Some voiced concerns over using public land to support what they perceived to be an outside commercial industry, thereby denying local residents opportunities for jobs.
"Why are we stiffed? Why are we pleading?" said one resident.
There was general frustration with the lack of funding for the project, particularly in comparison to the major development by the South Street Seaport and on the West Side.
But others were supportive. Jim Miller, a local parent and member of the Local 52 union of motion picture studio mechanics, applauded the effort as a way of supporting the local movie industry and creating revenue.
"You can't get the improvements without money," he said. "We really need industry if we're going to support the city."