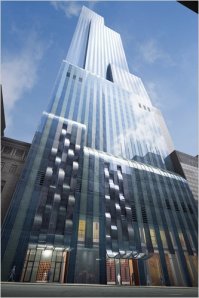 Fifteen Central Park West, be worried. Very worried.
Today, The New York Times reports on Gary Barnett's long-fallow hole on West 57th Street, across from Carnegie Hall, which, now that he has some big Middle Eastern backers, he is turning into the city's tallest, and perhaps most expensive, condo project. The price for its development is being tagged at $1.3 billion.
According to The Times, "The tower, designed by the French architect Christian de Portzamparc, will rise 1,005 feet above 57th Street east of Seventh Avenue, feature striking views of Central Park and house what Mr. Barnett hopes will be 136 of the most expensive and luxurious apartments in the city. A 210-room Park Hyatt hotel is to occupy the first 20 floors, hotel analysts say."
More here.
drubinstein@observer.com