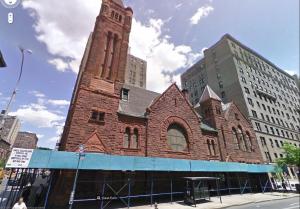 Following a series of articles and columns critical of over-landmarking, as well as pushback in an attempt to landmark a Presbyterian church on the Upper West Side, preservationists apparently aren't happy to be slapped around.
Per an advisory to supporters just sent out by Historic Districts Council executive director Simeon Bankoff, preservation groups are planning a 10 a.m. rally Wednesday at City Hall, which just so happens to be the same day that the Presbyterian church, West Park, is up for a vote.
Mr. Bankoff sounds a warning that Council members no longer seem to be brushing aside complaints about the proliferation of historic districts—often made by the real estate industry, which contends that too much of the city will be frozen in time, off limits to development, density, and change.
"There's been a recent cry in the press against preservation efforts—with the hoary old lines about 'standing in the way of progress' and 'NIMBY'ism sometimes reaching fever pitch," Mr. Bankoff wrote. "This static unfortunately matters because our elected officials—some of whom are new to the job and others who have a long record of NEVER 'standing in the way of progress'—are beginning to listen.
"We must show City Hall that New Yorkers care about their neighborhoods and want them preserved."