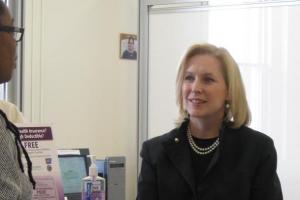 President Obama will visit Buffalo on May 13 as part of his Main Street Tour, and Senator Kirsten Gillibrand's camp would like at least a little bit of the credit.
A press release from Ms. Gillibrand's office said the visit came "at Gillibrand's urging." (An unnamed administration source confirmed that claim to The Buffalo News.)
Back in January, when Harold Ford Jr. began taking his quasi-campaign against Senator Kirsten Gillibrand to other parts of the state, he made Buffalo–the state's second-largest city–his first stop.
On the eve of that trip, Buffalo Mayor Byron Brown told me Ms. Gillibrand was still "trying to establish a connection" with the region. "We have not, however, seen her a whole lot in Buffalo, or in Western New York," Mayor Brown said, adding that a primary often makes candidates work harder.
The possibility of a primary with Mr. Ford fizzled out. But, even without a big-name challenger, Ms. Gillibrand has tried to solidify her support out West–visiting the region to commemorate the crash of Flight 3407, and now, pushing the president to swing through.
"I'm proud President Obama is coming to Western New York," she said in the release. "This shows his strong commitment to the region. It is something I advocated for because I believe Western New York can play a leading role in America's economic recovery."