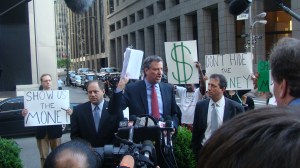 Public Advocate Bill de Blasio was in Lower Manhattan this morning–amid a gaggle of protesters–to attend Goldman Sachs (GS)' shareholders meeting, where he wanted to push the company to support a shareholder resolution that would disclose all of the company's political spending.
"This year the Supreme Court gave corporations the ability to spend without limit or restraint in our elections," said Mr. de Blasio in a statement, referencing the Citizens Union decision that allowed for unlimited corporate spending in elections. "Goldman Sachs has made some progress but today they have an opportunity to commit to an even greater level of reform and transparency."
Last year, Goldman agreed not to funnel money through so-called 527 entities, which allow for unlimited expenditures so long as they're independent of a candidate's campaign. A release distributed by the company says that all Goldman employees in the U.S. are "required to submit for review all proposed political contributions to determine if they are consistent with our policies," and noted that contributions from the company's official PAC–the GS PAC–are disclosed through the usual processes at the FEC.
Mr. de Blasio's release notes that the city's largest pension fund–New York City Employees Retirement System (NYCERS)–had $98,714,619 invested in Goldman Sachs at the end of last year.