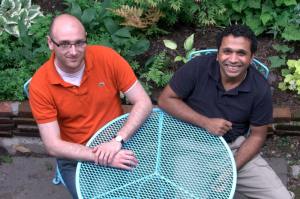 In the basement of a Brooklyn brownstone, in between rooms taken up by a homemade video synthesizer and a worm garden, two 31-year-olds have spent the year building the next great American bank. It won't have tellers, TV ads with handsome couples, well-lit branches, a trading division or even fees, except for the odd international wire transfer.
In the BankSimple office on Friday afternoon, Josh Reich, mostly bald, wearing stubble, nice Brooklyn glasses and an orange polo shirt, and Shamir Karkal, at a desk about half the size of his partner's, said the idea is to go back to old-fashioned Main Street banking, but to do it with a new kind of gorgeous simplicity on the Web.
"It's not a hard job," Mr. Reich said, "unless you become really greedy." When BankSimple debuts later this year, customers will deposit checks by taking pictures of them on smart phones; take out money fee-free from quietly ubiquitous ATM networks like Allpoint; and have one card that handles savings, credit and checking.
'No one has said, "I absolutely love everything about my bank. And you're an idiot for going to work on this."'
Less than a week after the Senate passed its gargantuan financial reform bill, it's an interesting time to be a banking upstart. Last year, banks brought in an estimated $38.5 billion on overdraft fees, the money they charge customers when balances are exceeded, an example of what Mr. Reich sees as the oligarchs' Shakespearean-scale dreadfulness.
Without having to worry about branches, his idea is to just make money from plain lending, and from the little slivers that retailers give up when cards are used for purchases. "You have some people who want to save money, some people who want to borrow money," Mr. Reich said. "It's not that hard."
But beside the fact that people might not want to trust 31-year-olds working out of a home office-though they're about to move to an office in Dumbo-BankSimple won't actually be a bank at all. Instead of going through the long and strange process of chartering their own institution, the start-up will use F.D.I.C.-insured partners to handle everything on the back end.
"Coming from Twitter, where I built up their platform," said Alex Payne, 26, who left that Web site to join BankSimple as a co-founder last week, "getting people to understand platforms and products, it takes a little bit of work." But the three feel that if they can provide people something that's minimal, beautiful, helpful and smart, they will come. "We're taking this opportunity," Mr. Reich said, "to do something that's beyond us."
MR. KARKAL WAS born to a family of bankers in Bangalore. "I wanted to be as far away from banking as possible," he said. "I was in the tech crowd. I loved physics; I loved computer science. I was programming when I was, like, 11 years old."
Mr. Reich is from Melbourne. "My mother was an educational video producer. As a nerdy child, I had the most awesome video collection," he said in the basement office, at the bottom of the house he and his wife bought up the block from Mr. Karkal's Fort Greene place. "I'd go to the office, and I'd be able to take whatever science book or math video I wanted and I didn't have to pay for it. "That is cool," Mr. Karkal hummed. "That was cool," Mr. Reich nodded. In Australia, he made it to the fifth of six years of medical school. "I was doing obstetrics and gynecology and delivering babies. I had a computer on the ward, and I could log in to my home computer from there. And I would miss deliveries." One of his two cats wandered by and meowed. "I kind of realized that I really enjoyed working in software."
"Josh is the only polymath I really know," said Greg Yardley, his former boss at a start-up called Root Markets. "Unlike myself-just an expert in online marketing, bit of a hack, really."
SEE MORE ON BANK SIMPLE: THE NOTABLE QUOTABLES>
At the Tepper School of Business at Carnegie Mellon, where they met, Mr. Karkal thought Mr. Reich was cool once he discovered he kept a rack of computers in his closet. "I was like, 'Wow.'" Afterward, Mr. Karkal spent three and a half years at McKinsey & Co., doing strategy work for financial firms.
After Root, Mr. Reich worked on equity research at a fund. "It was just too relaxed for me. And I know that sounds weird," he said. He left early last year to do what he calls boutique data-mining consulting. "Large amounts of data just turn me on."
Last September, just as he was starting to think about BankSimple, he got an email from JPMorgan Chase that said his account had been overdrawn: He went to the Web site and saw they had put his payments through twice. He called and was sent to the online banking group, which transferred him to the credit card people, who said the problem would take four days to solve. He waited and called back, then was told there was no receipt of his original call.