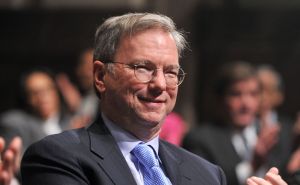 Google CEO Eric Schmidt and Rupert Murdoch are speaking!
The thinking is that if Google can get customers accustomed to paying for all sorts of goods online through a universal system, Google Checkout, then readers will not think so hard about buying newspaper content online. Paying for articles will be just another click.
During his remarks at Google's Zeitgeist conference near London, according to the Financial Times, Mr. Schmidt said that Google is in talks with other news organizations as well.
"I would rather not talk about specific news on any deal. But we are a platform, not a competitor to newspapers. Today we have an advertising answer for them, but we would like to have other answers for them as well."

"Google will not get into the content business, but we can build tools for it," he said.
It has been less than a year, FT mentions, since Mr. Murdoch was threatening to sue Google for using his newspapers' headlines in search results. Mr. Murdoch will remove his Times and Sunday Times UK's headlines from Googles searches next month when he puts those titles behind a paywall.
Mr. Murdoch is also in "late stage" talks with Gannet, according to Peter Kafka, about adding that company's content to his forthcoming digital subscription service.