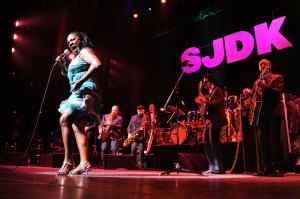 "There may be seats on the floor, but that doesn't mean you have to sit in them," Sharon Jones's rhythm guitar player said Friday night at the first of two sold-out shows at the Apollo Theater. The audience didn't pay any attention to the chairs.
While the band played songs off their wonderful new album, I Learned the Hard Way, the crowd was in the aisles, scrambling toward the stage. Ms. Jones, 53, stood in front of her massive backing group (which was really more of an orchestra, with its choir, string quartet, tenor and baritone sax, three percussionists, two guitar players, and others), microphone in hand, wearing heels and a bright blue frilled dress with the hemline high above her knees.
"Get up here and dance with me," she said, pulling a 300-pound man with dreadlocks past his butt on the stage. He rubbed his body against Ms. Jones.
"Don't you waste my time," she sang. He held both hands to his heart, flashed a hurt look. The singer returned it: "When you gonna give it back, baby?" He twirled. A dreadlock flailed about, hitting Ms. Jones in the face.
There was a weird, 80's-era-Springsteen vibe to the moment.
Jones's band—with the precision of the Famous Flames, and the focused chaos of Funkadelic—were visually stunning as their numbers fluctuated between ten and twenty members for any given song.
But it was Ms. Jones everyone was watching. She pranced about the stage in her heels, screeched into the microphone, and placed herself in a genealogy of all those infamous performers that have made the Apollo famous. She was Tina Turner mixed with Martha Reeves. She shouted like James Brown, crooned like Sam & Dave. But she was Sharon Jones most of all.
"My love is strong," she sang, and tensed up her body, letting loose a shiver.
"Say it, girl, say it!" an audience member called out.
She pulled a blonde woman, noticeably drunk, out of the audience. The woman stumbled, her arm wrapped around Ms. Jones.
"I'm in love with you," she said just in reach of the microphone.
"Help her down," Ms. Jones murmured.
Without missing a beat, all 18 members of the band kept playing, as precise as a train going down its track.
"Right now I'm gonna take you back to 1965!" Cheers. "Let me mash potato!" and she did. "Next up: the funky chicken. Right now, watch me!" She clucked around the stage. The woman who confessed her love climbed back up to Ms. Jones with great effort. Still doing the funky chicken, Ms. Jones said, half-singing, in all seriousness: "You don't get on my stage unless I ask you." The audience member obeyed, crawling back into the crowd.
In nearly the same breath Ms. Jones said, "These shoes are really pretty comfortable, but I'm gonna take 'em off." She removed her heels. "When I get this mic in my hand. Something comes over me. It's in my blood. I gotta move, I gotta dance. I'm gonna break it down. I'm gonna explain it to you. My knees begin to shout." She moved her knees. "Then the shout moves a little higher and my hips begin to shout." Her hips joined her knees. "The shout gets higher, up in my arms. Gets higher, gets in my head and my head begins to shout. I feel a shout comin' on." She howled. The voice filled the Apollo. Her whole body moved. Somewhere James Brown smiled. Then the band let up. Ms. Jones breathed heavily into the microphone. Had she run out of steam?
"Wait a minute," she said to the band. The frills of her dress moved with her panting.
Then she picked up an earring that fell off during the dance, clasped it once again to her ear. She put her heels back on her feet. Once more, The Dap Kings began to play and Ms. Jones's whole body moved again.