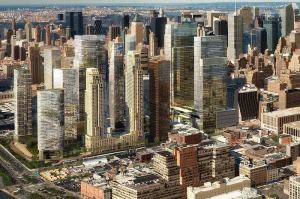 Si Newhouse is intent on finding Condé Nast a new home.
Only 11 years after Condé Nast moved into 4 Times Square, Mr. Newhouse has stepped up a three-year-long real estate search and is setting his sights on, of all places, lower Manhattan.
VIEW SLIDESHOW > THE HOUSE THAT SI BUILT
Over the past few months, Condé Nast has taken a look at the David Rockefeller-designed One Chase Manhattan Plaza, and the multi-building complex that used to house The Wall Street Journal at the World Financial Center, according to a real estate executive. ("Miss Wintour, did you know that your new office once belonged to Dorothy Rabinowitz?!")
'It's certainly not bluffing,' said a Condé Nast executive to The Observer. 'It's a serious look.'
And within just the past few weeks, Condé Nast reached out to the Port Authority of New York and New Jersey expressing interest in taking 1 million square feet at One World Trade Center, which is scheduled to open at the end of 2013. Condé Nast has also approached the Bloomberg administration to discuss a move from midtown to the tower, suggesting the effort is a serious one.
The prospect of Condé's gazelle-like interns and Balthazar lunch deliveries relocating near dreary Battery Park may be hard for Manhattan's publishing swells to get their heads around. ("The place is a cemetery," said one Condé veteran. "It's creepy.") But Mr. Newhouse is a master dealmaker, and he knows that rents for a fancy corporate tenant downtown may be as cheap now as they'll ever get. More than that, he may well sniff something else in the air: When Condé signed on to Times Square, it was at the beginning of the neighborhood's renaissance, which no doubt was helped by Condé's arrival. Mr. Newhouse could now be in a position to do the same thing again, anointing a part of the city New Yorkers avoid if they can.
Based on conversations with multiple real estate executives, government officials and Condé Nast sources, they are pursuing the tower more aggressively than some of the other would-be offices Condé has looked at in the past few years. "It's certainly not bluffing," said a Conde Nast executive to The Observer. "It's a serious look."
Why would Condé look for a new home, just after helping to remake Times Square? Money!
"Why look for new space as opposed to stay here?" said a Condé Nast executive, speaking at 4 Times Square on Tuesday. "We're paying below market rent here, and at some point, it goes to market. That's a huge jump. When we moved to Times Square, market rent was nothing like what it will be when our lease expires."
Condé Nast signed a deal with developer Douglas Durst in 1996 for rents that made sense in the Giuliani years. (One real estate source pegged the lease numbers in Condé Nast's first year of occupancy in 1999 to be somewhere around $35 per square foot. Rents for the newly opened 11 Times Square, down the block, are reportedly in the high $70s.)
And though Condé Nast's lease is set to expire in April 2019, there's a plausible scenario for relocating within three to four years.