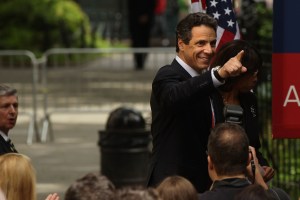 Andrew Cuomo leads his Republican opponents by about 40 points, according to a new Siena poll out today.
Cuomo leads Rick Lazio 66 to 24. Both Steve Levy and Carl Paladino do slightly worse in their hypothetical match ups against Cuomo: 65 to 22 percent.
Surprisingly, 31 percent of Republicans "volunteered that they would like to see Andrew Cuomo elected as the next governor."
In the race against Kirsten Gillibrand, none of the three major Republican challengers gets more than 25 percent, while she hovers just over 50 percent.
And in the Democratic primary for attorney general, Kathleen Rice leads the five other candidates with 21 percent. But 61 percent of voters are undecided. Republican AG candidate Dan Donovan gets between 24 and 28 percent against a Democratic opponent.