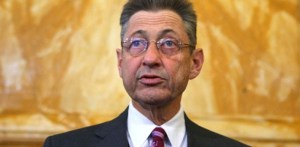 Assembly Speaker Sheldon Silver, speaking Friday morning at the Downtown-Lower Manhattan Association, opened up his remarks with a recitation of some lines he gave at the same event last year in his scathing condemnation of the lack of progress with the World Trade Center redevelopment:
I am fed up with the stalling. I am weary of the recalcitrance and tired of the absence of a clear and steady focus from leadership at the highest levels of our government.

We have a gaping hole that still has not been addressed. That we are where we are after this much time is an embarrassment. We cannot allow the current impasse to go on.
And then the punch line:
"That's all I am going to say about the state budget process."
(He went on to note he's now pleased with the progress in the past year at the World Trade Center, where the impasse over financing two office towers was broken.)
His quip about the budget—now six weeks late—came as he offered few signs that progress was being made in Albany. He pleaded publicly for the governor to pass bills for areas of the budget on which there is agreement between both the Senate and the Assembly.
He also, in his prepared remarks, posited the idea that the governor might be delaying a budget deal out of fear that he would be irrelevant once the budget process is over:
Some have suggested that given that his remaining time in office is running out, the Governor is unwilling to do a budget now for fear that he will become irrelevant in the public arena.

I believe that as long as he or she has the bully pulpit, a governor can be as relevant as they choose to be.
Asked later about the suggestion, he clarified:
"I said, 'Some people think,'" he said.
Asked whether he was one of those people, he responded this way:
I'm meeting with the governor. I met with him last week, I'm meeting with him today, in an attempt to break an impasse and try to move forward in the budget process. I think he's meeting in good faith, I have no reason to think otherwise, and we will see as we go forward.