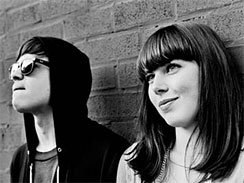 Treats, the debut album from Brooklyn duo Sleigh Bells, was released electronically today—and despite the excitement that's surrounded the band since last year, it didn't leak. How did they pull this off?
Mike Conklin speculated in the L Magazine that the band had strategically avoided sending out review copies to help keep the album under wraps:
I've spoken to a bunch of other writers and none of them got copies either.

So suffice to say, it's not being treated the same way most albums are treated, and it might turn out to be a stroke of genius. By not giving copies to the people who, frankly, were always going to write about it no matter what, they avoided a sales-killing leak, but by allowing the record to stream today, they assured that we'd still be talking about it in some capacity.
Conklin shouldn't feel too bad, though. Sleigh Bells co-manager Bill Fold (whose other job is running Coachella) told The Observer that many of the band's friends didn't hear the album until last night. Their agent didn't have the entire album until last night, and the record label didn't have it until two weeks ago. True, it wasn't "technically finished" until Saturday night—but the team was also trying to keep things as quiet as possible.
"It doesn't matter, the stupid watermark stuff people talk about," Fold said: The only way to prevent leaks is to keep the album out of people's hands. Besides, audiences have gotten jaded. Hearing things early is no longer the source of excitement that it once was. Fold is nostalgic for the late '70s, when people would line up for a new Led Zeppelin release. The plan for Treats was to preserve "a little bit of mystery."
This apparently requires firm resolve. And, Fold said, "a whole hell of a lot of luck."
(Stream Treats at NPR for the next week)