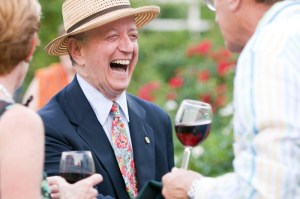 As New York heads into summer, the competition for philanthropic dollars heats up. Arts groups (not to mention botanical gardens) are increasingly trying to outdo each other with ever-more-lavish and leafy events, several of them held back-to-back in coming weeks.
Here, a guide to these tony garden parties – the only places in New York where seersucker isn't tainted by irony.
The Brooklyn Botanic Garden
Centennial Gala
June 7
The Botanic Garden's summer gala is not just one garden party, but three. Commencing with cocktails in the herb garden at 5:30, it will migrate to the rose garden (more cocktails) and the cherry esplanade (food), making the centennial celebration a kind of pub crawl for exceptionally well-dressed adults. Mayor Bloomberg will be in attendance, performing selected monologues from A Midsummer Night's Dream. Well, not quite, but he will offer welcoming remarks. Tickets start at $200. Garden-lovers who'd prefer to skip the gala can plan a visit based on the Web site, www.bbg.org, which posts which flowers are in bloom.
Cooper-Hewitt, National Design Museum
Members' Garden Party
June 15
Cooper-Hewitt has always vied with the Frick (see below) for the title of Museum Mile's most adorable back garden, and this summer they will both flex their muscles with outdoor parties a month apart. The Cooper-Hewitt's is members only and offers access to its sweeping Triennial exhibition-"Why Design Now?"-and equally importantly, to the always-spectacular gift shop. Wine-addled guests are politely requested to refrain from sliding down the wood banister of the stately main staircase. Individual membership costs $75.
The Frick Collection
Garden Party
July 15
Started in 2008, the Frick's annual garden party is (according to the institution's own press release) "one of the most memorable social events of the year." Whether that's true or not, the party does offer access to the otherwise rarely open elevated garden, which flanks the historic mansion on its Fifth Avenue side. All proceeds of this event go to the museum foundation, and guests are invited to inspect a new exhibition about the museum itself. Self-centered? Perhaps. But if your house were that nice, you'd be the same way. Tickets start at $150.
The High Line
Cocktails on the High Line
June 21, 6 PM
Some partiers might argue that if summer in New York has a fault, it is the NYPD's negative stance on drinking in public parks. If you are among them, the Friends of the High Line have come to your rescue. Attendees at this benefit can toast the sunset outdoors in the so-called Chelsea Grasslands, and then see a preview screening of A Bell for Every Minute, a film by avant-garde director Stephen Vitiello. Dinner follows at equally avant-garde auction house Phillips de Pury & Company. Tickets start at $1,000.
The Morgan Library & Museum
Panel discussion
June 2
Not a party, and not a garden, either, but the Morgan Library this week opens the show "Romantic Gardens: Nature, Art, and Landscape Design." It's about the "scenic vistas, winding paths, bucolic meadows, and rustic retreats" of the public parks and private estates of the late 1700s and early 1800s. There will be artwork, books and even contemporary photographs of gardens. On June 2 at 6:30 p.m., the museum hosts a panel on contemporary landscape design that discusses the High Line, among other city projects. Tickets are $10 for members, and $15 for non-members.
The Museum of Modern Art
Party in the Garden
May 25
The Modern, post-Tim Burton, has turned cool: They've booked Karen O and Nick Zinner, of the Yeah Yeah Yeahs, as entertainment for their annual swanky Party in the Garden. Tickets start at $1,000 per person, but after-party access, and the same glorious views of the backyard Henry Moores, can be had for $100. Social climbers, take note: This benefit will be attended by Agnes Gund, Jerry Speyer, the Lauders, the Kravises and the (Leon) Blacks. It's like an Edith Wharton novel, with cell phones.