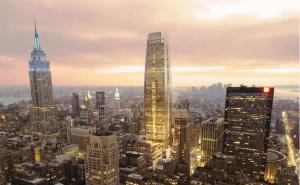 Steve Roth's plan for what would be the city's third tallest tower, across from Penn Station on the site of the current Hotel Pennsylvania, just got a boost, as Borough President Scott Stringer on Wednesday gave his conditional approval for the proposal.
The planned 1,200-foot skyscraper—which is theoretical in that it would not likely be built until Vornado is able to get a tenant some unknown number of years down the road—was delivered a near-unanimous (non-binding) rejection by the community board last month, with members citing too much density and discontentment over the transit benefits being offered by the developer. Had Mr. Stringer given a negative recommendation as well, the tower would likely have faced something of a political climb to get through the City Council.
But Mr. Stringer was on board with the concept of a large office tower on the site, and his recommendations pertained mostly to pedestrian flow issues, open space and a number of smaller issues that are likely surmountable.
From the recommendation:
The proposed development represents a unique opportunity to encourage high-density transit-oriented development, strengthen the nation's largest central business district, and improve local and regional mass-transit systems. The scale of the proposed project is consistent with buildings in the surrounding area and the City's development goals and policies, and is appropriate for the development site.
The plan for the tower, named 15 Penn Plaza, now goes to the City Planning Commission and then to the City Council.
ebrown@observer.com