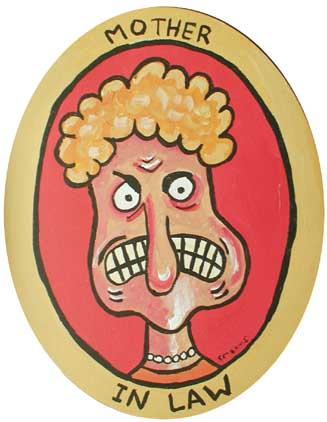 5.14.10 Apparently in the state of New Jersey it is perfectly okay to poke fun at your mother in law, but not your former law firm. In two separate cases, we find out some very interesting information about the First Amendment as applied in New Jersey.
A federal judge threw out a defamation suit against comedian Sunda Croonquist, ruling effectively that her Jewish mother-in-law jokes are "opinions and thus protected by the First Amendment." The judge described her jokes, although tinged with "racism", as merely "colorful, figurative rhetoric". It makes one wonder if Judge Mary Cooper would have felt the same way if the jokes were about lawyers — — — and judges.
Croonquist's background serves as the basis for her comedy — — she is the product of a black mother and a Swedish father — — she was given a Hindu name and attended a white Catholic school in Patterson. Well, we can see that there are yuks aplenty there.
And, of course, to complete her comedy career she had to, of course, marry into a Jewish family — — so she can have a Jewish mother-in-law to make fun of. But her mother-in-law, Ruth Zafrin, was none too happy with being the center of Croonquist's barbs. The lawsuit was filed in Superior Court in 2009 alleging defamation, false light and intentional and negligent infliction of emotional distress — — not to mention unjust enrichment. I have not seen Croonquist's name listed into many comedy clubs in New Jersey, so I'm not quite sure exactly how much she's being "enriched" by her Jewish jokes about her mother-in-law.
Ironically, Ruth's filing of this lawsuit most likely drew more attention to what she was trying to stop — — and made Croonquist more popular in the process. Good going Ruth!
In another case, a federal judge in Trenton refused to dismiss a suit by Levinson Axelrod against a former associate who set up a website to trash the firm. The site put up by former employee Edward Heyburn — "Levinson Axelrod Really Sucks" — — compelled Levinson Axelrod to believe that the use of the name in the title of the website would cause confusion about whether or not it was connected with the firm. Yes, I'm sure that's the case, when people read a website that says 'this law firm really sucks', they're going to think it's just a way of generating a business for their lawyers. Really.
Heyburn, on the website, bashes his former law firm, celebrates the firm's losses in court," has fun with the firm's own promotional videos by overdubbing. Sounds like he's protected by the First Amendment to me.
Anyway, perhaps Heyburn and Croonquist should get together and exchange notes.