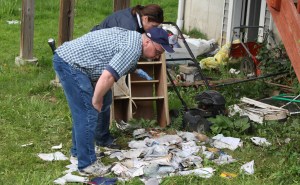 John Gapper of the Financial Times takes note of recent bit of hustle in The New York Times.
Like pigs searching for a truffle, Times reporters dug through the "maggot-covered garbage" of Faisal Shahzad, who was arrested for the attempted car bombing in Times Square, to find documents and glean extra information about the suspect.
Getting dirty paid off. The Times published an image of Shahzad's student visa, which reporters found in the trash at his home in Shelton, Connecticut, on the front page this morning.
"That is the sort of enterprising research that would be envied by The Sun and The News of the World, Mr Murdoch's UK tabloids," wrote Mr. Gapper.