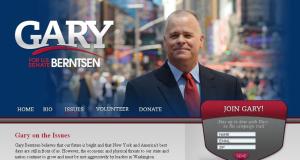 Republican Gary Berntsen–a native of Long Island who served 23 years in the C.I.A.'s clandestine services–will announce on Sunday morning that he's challenging Chuck Schumer.
"If you were to waterboard Chuck Schumer and ask him who he does not want to run against in November, he would gurgle the name Gary Berntsen," wrote D. Patrick Mahoney, the president of Iraq Veterans For Congress PAC, which sent out the email announcement.
Mr. Mahoney called Mr. Berntsen–who wrote a book Jawbreaker, about the search for Osama Bin Laden after 9/11–as a "real deal terror warrior and his strengths perfectly highlight Schumer's weaknesses."
"I have no misconceptions about the enormity of the task ahead," Mr. Berntsen wrote on his campaign website. "I am confident that New Yorkers will respond with great enthusiasm to my message that it is time to "RIP" apart the business as usual approach coming out of Washington."
In a video posted to the site, Mr. Berntsen introduces himself to voters while standing in Times Square.