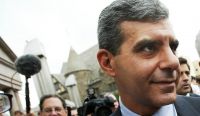 EAST BRUNSWICK – The packed room at the Hilton looked like a holding chamber for past and future statewide Republican candidates.

State Sen. Tom Kean went to the podium to thank the young party hardies who backed him in the 2006 Senate race.

This was early 2007, and he didn't yet sport the obligatory post-election blues beard, but he was still haggard with the loss to U.S. Sen. Bob Menendez as he gave a nod of gratitude to Frank Luna and other emerging GOP activists.

In the hallway outside the room huddled state Sen. Joe Kyrillos (R-Middletown) and former Jersey City Mayor Bret Schundler.

"It's the last office you can hold while still maintaining the traditional demands of family," Kyrillos told Schundler, when the latter asked him if he intended to run for something more than state senate – and with an eye on the upcoming U.S. Senate contest.

A victim of the 2005 GOP gubernatorial primary more than a year earlier, Schundler wore the placid look of a man carefully considering his next move, which might have come in a year or two years.

As it turned out it took three years for Schundler to resurface in 2010 as commissioner of education under Republican Gov. Chris Christie.

Banged up very briefly by the loss of his choice for president, former Massachusetts Gov. Mitt Romney, Kyrillos too went into next-move-mulling-mode.

He considered running against U.S. Sen. Frank Lautenberg (D-Cliffside Park) in 2008, but finally decided instead to focus on the 2009 campaign of his longtime friend. His backing of Christie for governor proved a solid move for Kyrillos, a founding core member of the former U.S. Attorney's political rat pack.

But Kyrillos and Schundler weren't the only ones whose stock rose with the election of Christie, whose mentor was former Gov. Tom Kean, elder statesman of New Jersey politics and father of none other than junior.

As he headed toward the big 40, Kean's own political rehabilitation started in the upper chamber of the state Senate with the Congressional victory of then-Senate Minority Leader Leonard Lance.

Kean took the lead role and proved – by almost all accounts – steady on the job as his father jumped out in front of nearly everybody else last year in publicly endorsing Christie for governor with the additional personal touch of someone who remembered Christie as a boy running up the Kean family driveway in Livingston to offer himself as a willing acolyte.

Now it's again Kean as senate majority leader, tasked with keeping Republicans in sync for the Christie agenda; and the veteran Kyrillos as Peter Lawford liaison man of Christie's inner sanctum, moving between close quarters contact with the governor and the legislature – both in the vanguard of Trenton Republicans, according to most party sources.

On the horizon looms the 2012 U.S. Senate race and what would be a rematch for Kean against Menendez, or the first statewide launch of longtime Monmouth County brand Kyrillos.

Neither man will publicly say he's running for the job.

"Today we're focused on finding ways to make the state more affordable and government more accountable," Kean told PolitickerNJ.com two weeks ago at a Union County event helmed by Christie when asked about renewing his U.S. Senate aspirations.

"No comment," said Kyrillos, coming off a Christie-infused fundraiser in which the dean of the Monmouth County GOP raised almost half a milion dollars.
Kyrillos in particular – and not surprisingly given his personal closeness to Christie and the motherload of votes that came out of Monmouth for the Christie candidacy last year – has helped guide the governor – and told him personally when he disagreed with his decisions, such as the state aid cuts to suburban schools and towns.

For all the meticulous logic of their movements into the forward ranks, Statehouse GOP sources say the trends show a wealthy challenger emerging as a U.S. Senate candidate: possibly biotech millionaire John Crowley or former CNN television provocateur Lou Dobbs.
In fundraising mode three years from now as he heads into his own re-election campaign in 2013, the question for Christie will be whether he wants to have to be in war paint money mode for Kyrillos and Kean a year prior with all those same big plate New Jersey donors, when a Dobbs or a Crowley can effortlessly take up the slack.
Blown apart by the 2008 derailment of self-funded neophytes like Anne Evans Estabrook and Andy Unanue, that theory could get an injection of credibility with the success – or respectable performance – of any one of three independently wealthy U.S. Congressional candidates this year: Wall Street wife Diane Gooch of Rumson, Wall Street standout Scott Sipprelle of Princeton, or former Philadelphia Eagles star Jon Runyan of Medford.
None of them is intimately cocooned with the Christie story – like Kean and Kyrillos; or sources say, potentially Lt. Gov. Kim Guadagno or even Schundler and State Party Chairman Jay Webber, all of whom now carry a specific Christie imprimatur.
But Kean and Kyrillos have the corresponding deep impact histories, and that helps with a governor like Christie, known to prize loyalty.
And Menendez isn't the only sitting U.S. Senator with a "D" after his name.