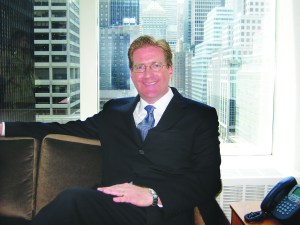 When Studley executive managing director Daniel Horowitz signed on to represent London-based clothier Burberry in 2008, neither he nor the designer of those ubiquitous camel-toned plaid scarves could have predicted that, together, they would transform Manhattan's skyline.
As Mr. Horowitz describes it, the prestigious fashion house had outgrown its U.S. headquarters at 1350 Avenue of the Americas. While their lease wasn't up for another four years, Burberry executives were seriously considering a renewal and expansion at the SL Green-owned building despite the inconvenience of working on non-contiguous floors.
It was only after taking a step back that the broker and the Burberry executives realized the company's needs were far greater than a simple square-footage boost. Indeed, despite retail locations in Soho and farther uptown, on 57th Street, the clothier's identity in New York was minimal. What they needed to do, Mr. Horowitz said, was make a grand statement.
Both challenges were surmounted when New York magazine vacated space at 444 Madison Avenue. The magazine's exit provided 68,348 square feet for Burberry, and the chance to make use of building signage that had been grandfathered into law at the 42-story prewar property despite being otherwise banned throughout the city. Soon, Mr. Horowitz said, Burberry's presence will be announced with an illuminated logo spanning three directions.
"We gave them the identity they needed by getting both ground-floor signage; the lit, 6-foot sign; and then two retail stores flanking both the north and south side of the lobby," said Mr. Horowitz, 45, who said the Art Deco property recently underwent a $30 million renovation that included encasing the first two stories in glass. "So the building effectively is considered the Burberry building."
Since joining Studley in 1990, Mr. Horowitz has represented tenants as varied as the media company Gannett, the Rockefeller Brothers Fund and consumer electronics maker Cisco. In total, he has sealed more than 3 million square feet in transactions, valued at more than $2 billion. Last week, he inked a deal with an advertising agency for a 100,000-square-foot expansion in Hudson Square.
In the past few years, however, Mr. Horowitz' reputation has been built largely on the kind of real estate deals that impact not only the companies he represents but the face of New York.
Like the Burberry deal-for which he was nominated for the Real Estate Board of New York's coveted "Most Ingenious Deal of the Year" award-Mr. Horowitz's dealings with the Lois and Samuel Silberman Fund resulted in a transaction that has impacted the city.
In a complicated deal that involved no fewer than four real estate parties and four years of work, Mr. Horowitz shepherded a transaction in 2009 that allowed Hunter College's School of Social Work to move from 127 East 79th Street to a building on 118th Street in East Harlem. The challenge was scouting an affordable facility for the college while also finding a buyer for the building so that the fund could donate profits from the sale to Hunter. It was a chicken-or-egg dilemma.
"You had the need to sell the building, but you couldn't sell the building until Hunter identified a new location to go to and figured out the costs to get that new facility up and running," Mr. Horowitz said. "And you couldn't figure out those costs until the land could be identified and you identified the amount of money the benefactor would give toward that equation."
Add in the fact that the location he and his team had scouted for the college was occupied by a strip of nine retailers, and the equation became even more complicated. As a result, Mr. Horowitz negotiated a deal to bring in the Brodsky Organization, which agreed to develop the site and purchase the 79th Street property. The deal culminated not only in the construction of a 140,000-square-foot school that's expected to be completed in 2011, but also this year's top-place Ingenie, which he shared with Studley colleague Ira Schuman.
"It was pretty important. To some degree, for some people and maybe even for us, it's an exercise in vanity," said Mr. Horowitz of the REBNY award. "Everybody likes the adulation that comes with it. But it's also a validation of the many hard years of work. Those years early in your career when you're sitting in a cubby and making cold calls and walking buildings and trying to understand the inner workings of a business that seems very foreign and overwhelming at times when you're a young broker."
MR. HOROWITZ WAS born in Midwood, Brooklyn, but grew up in Hewlett, a small town of about 8,000 people on the South Shore of Long Island. He lived in the same house throughout his childhood until he moved to Philadelphia, where he earned a bachelor's degree in political science from the University of Pennsylvania.
Mr. Horowitz's real estate career began auspiciously enough in 1988, when he was tapped to become what he said was only the third financial analyst in Cushman & Wakefield history and the first to provide support to some 100 brokers in the firm's midtown office.
"It was sort of a lens through which I could see what my future held and to see all the characters that were in the real estate business that I served," said Mr. Horowitz, who worked as an analyst for two and a half years before accepting a brokerage position at Studley. "They were my customers at that point in time-customers within Cushman & Wakefield. I got to see different styles and go on meetings with some of these senior brokers, which was intimidating but really fascinating."
An avid cyclist, skier and surfer ("I try to surf," he corrects), Mr. Horowitz lives on the Upper East Side with his wife and two sons, and takes summer vacations in Montauk. It's there, with his 9-year-old son, that he has been trying to perfect his surfing skills.
"There are some parallels between learning how to surf and getting into the real estate business, in the sense that there's a lot of failure early on," said Mr. Horowitz, who concedes to at least a few crash landings as a surfer. "You try to use the biggest board possible at first so that it's almost impossible not to stand up. But when you take that safety net away and go to a standard surfboard, in the same way there's a lot of rejection early on in the real estate business, there's a lot of falling down when you're surfing."
"But," he added after a brief pause, "it's a lot softer landing in the ocean."
jsederstrom@observer.com