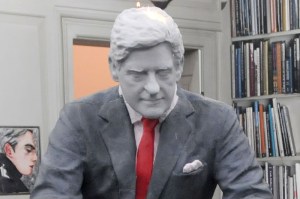 Last Saturday, as the wind whistled by the horse paddocks and the sun set on publisher Peter Brant's enormous Greenwich, Conn., lawn, his multimillionaire guests sipped spiked Paul Newman lemonade and talked art. The exclusive party closed the two-week auction season, and the mood was jovial: Sotheby's, Christie's and Phillips de Pury had raised $1.2 billion over 10 days. Everyone, as the saying goes, was there: Val Kilmer, Alberto Mugrabi, Phillip Seymour Hoffman, Julian Schnabel, Jeff Koons, Larry Gagosian, Gavin Brown, Tobias Meyer. Warhol Factory girl Bridget Berlin frolicked with her pet pug, Buckley.
The star of the party was Swiss artist Urs Fischer, a favorite of some of the collectors in attendance. Two days earlier, a Fischer had sold for a record $902,000 at auction. At Mr. Brant's Foundation and Art Study Center, the artist unveiled his enormous and elaborate Oscar the Grouch, a multi-room installation that included a giant indoor excavation site and a witty life-size candle of Mr. Brant lit at the crown. Given the guest list, no museum exhibition could have raised the artist's profile and value more.
This auction season, who was missing mattered. Buyers and sellers are so confused over the ultimate importance of such pricey, recently hot movements as Chinese Contemporary Art, the Leipzig School and the YBAs that auction houses barely offered work from them. Instead, buyers bet on which 50-something artists will make the art-history cut.
"A lot of people think," said art dealer Richard Polsky, who has written books on contemporary art as an investment, "that a few powerful collectors get together and decide who's hot, that it's all a conspiracy. And that's not true." Well, he conceded, "maybe it is a little."
Sometimes in the art world, it's money that matters, and this is one of those times. While the New York auctions raised triple the amount at a similar set of sales six months ago, to some degree the well-choreographed evenings just obscured what was really going on. Sales at the city's 300-plus art galleries are actually still flagging, and a shakeout is going on over which artists matter and who will make it into the art-history books. The shakeout is amplifying the power of the relatively tiny cabal of people who do keep buying at the highest levels, and it's shifting who and what people are paying attention to.
This season, it wasn't so much who sold well, but which artists, schools and movements surprisingly weren't on the block at all because the auctioneers didn't even know if there was a market for them anymore. Buyers and sellers are so confused about the ultimate art-historical importance of such recently "superhot"movements as the Leipzig School (Germany), Chinese Contemporary Art (Beijing) and the so-called Young British Artists (London) that auction houses offered work from virtually none of them. A safer bet was to offer works by artists like Mr. Fischer, for example, because of his powerful fans and because he's just a few months away from an well-recieved retrospective at the New Museum.
"There's a lot of confusion. With collectors of 'limited' means, what are they going to start buying? Pop and minimalism are not affordable. So you have buyers following other collectors-and you have a lot of discussion going on, deservedly so, about a lot of artists of a certain age," said Chelsea art dealer Robert Goff.
Indeed, nowhere is the shakeout more ruthless and noticeable than among a certain cohort of living artists, American painters in their late 50s and early 60s. Buzzy and white-hot in their youth, Ross Bleckner. Julian Schnabel. David Salle, Francesco Clemente, Eric Fischl. Peter Hall and Christopher Wool are just a handful of the artists in that age group who are all recognizable names but not yet household ones. (For multiple reasons, fewer American women artists from the '80s era are still high-profile, Cindy Sherman chief among them, and her legacy is less in dispute given the Museum of Modern Art's wide holdings of her work.) With younger stars like Mr. Fischer (born in 1973) pushing up, only a few of these 50- or 60-something artists will join the pantheon, so to speak, make it into the canon. Which ones will they be? "Because art is so expensive, you see people picking through carefully and ruthlessly," said one art dealer.