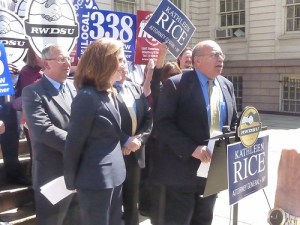 Stuart Appelbaum, president of union RWDSU, said Democrats need attorney general candidate Kaltheen Rice on the statewide ticket this fall to offer geographical and gender balance. Also, it's "useful" having a candidate who doesn't come from the legislature, said the union leader.
"Her presence on the ticket will be helpful to Democratic candidates running throughout the state and that has to be an important consideration too," said Appelbaum.
He was speaking on the steps of City Hall to announce the union's endorsement of Rice. In addition to being the most qualified, she has a demographic appeal that's needed, he said.
"I think it's important to show that we have a candidate that does not come from the legislature at this time. I think a lot of people feel that one of the issues that the next attorney general will have to deal with is the legislature in Albany. And I think it is useful to have a candidate who does not come from that world running for attorney general. I also believe the Democratic Party is a diverse party and that we need all elements of the party represented: urban and suburban. We need men and we need women. I think we should make our ticket as diverse as possible, and I think Kathleen does that."