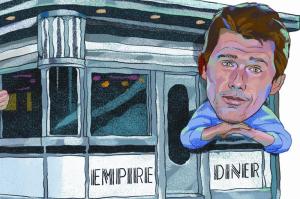 One night in 1976, a group of four young men walked into the Empire Diner on 10th Avenue and 22nd Street and asked for hamburgers. It was clear they'd never been there before.
"I told them we didn't make hamburgers, that we had some other stuff," said Carl Yorke, then 23, a novice actor who spent four months waiting tables at the Empire during the weird little diner's first year of operation.
The young men, who looked like "hormone-driven Jersey boys," were not pleased. What kind of backwards diner didn't serve hamburgers?
"They looked around, and they went, 'Oh, fuck! This place is full of fags!' And the place just emptied out," said Mr. Yorke. "This brawl broke out on the sidewalk. And these guys, the customers of the Empire Diner—they may have been gay, but they weren't pussies."
Mr. Yorke, who had just moved to New York from San Francisco, ran into the basement and grabbed a shovel—not to fight, but to protect his face from a disfigurement that would have ended his fledgling acting career. Eventually the brawl died down, and one of the Empire's owners, a chubby, handsome guy in his late 20s named Richard Ruskay, ducked inside. A tear on his preppy sweater indicated that he had gotten in the mix, and the look on his face said he was deeply thrilled about it.
"He immediately started looking in the mirror," Mr. Yorke recalled. "He'd gotten hit in the eye, and he couldn't wait for it to turn black. He really wanted a shiner!"
In 1992, Richard Ruskay died of AIDS at the age of 44, and shortly thereafter the restaurant was sold by its sole surviving co-founder to two longtime employees: executive chef Mitchell Woo, who'd been there since 1980, and general manager Renate Gonzales, who started on the graveyard shift in 1986. The Empire chugged along for almost two decades under their leadership—mellowing out somewhat as Chelsea changed around them and turning, eventually, into a major tourist attraction that drew celebrities like Kate Winslet, Ethan Hawke, and Julia Roberts.
At midnight this past Saturday night, the Empire served its last meal after operating continually for 34 years. Due to a severe rent hike by the landlord, the diner lost its lease and will be taken over by the Gotham City Restaurant Group, the company that also owns Coffee Shop in Union Square.
It is tempting to say that the passing of the Empire Diner marks the end of an era in New York, that it's yet another symptom of the city losing its soul. But the truth is more complicated than that, as the Empire was always already a whimsical, nostalgic place, and never a holdover from more "authentic" times. The diner was meticulously designed by young people—some of whom worked at MoMA!—to appeal to other kids their age who sought a taste of the blue-collar eating experience but wanted to get it while hanging out with other artists, actors and writers like themselves. It is this built-in nostalgia that allowed the Empire to survive for 34 years, even as Chelsea changed from a wasteland, to a center of gay life, to the world capital of contemporary art.
The kids who went to the Empire during the late 1970s, when it first opened, genuinely thought they were the coolest kids in New York City. They loved the Empire because it wasn't just a diner but an elegant, Art Deco-inspired reenactment of one. Converted by Ruskay and his partners, Carl Laanes and Jack Doenias, from an old greasy spoon originally built in 1946, the Empire sported flashing lights along its chrome exterior, black tabletops, candles, live piano music and a menu that didn't have anything so obvious or clichéd as "hamburgers" on it.
"That would have been too predictable, too obvious," Mr. Yorke said. "The Empire Diner was like a fantasy land where you could pretend to be a Buddy Can You Spare a Dime character in a '30s movie, but eat like you were a guest in Dinner at Eight. And the Dinner at Eight crowd would never have hamburgers."
Ruskay loved a charming gimmick. He was a fantasist-entrepreneur—part Wonka, part Sevigny—who was always coming up with ideas for New York establishments that involved some kind of unusual, witty quirk. At the eponymous restaurant on the Upper West Side he co-owned, there were no menus, and customers had to order the one dish that was being served. At the 50's-inspired Tex-Mex place in Chelsea he co-founded in 1982, waiters walked around in black leather pants. The clothing store he helped start in 1979, N.Y. Jock, Inc. featured dressing rooms outfitted with working showers and exercise machines. He had one idea—this one never materialized—to open a restaurant in Times Square where customers could only use one bill to cover their entire check and would not be offered change, meaning everything on the menu cost either $1, $5, $10, $20, etc.
During the early years of the Empire—before AIDS came in 1981, before families moved to the neighborhood, before the warehouses west of 10th Avenue were taken over by the galleries—the Empire was a mecca for hipsters and gay men, who would go there early in the morning after hours spent dancing at clubs in the Village. It got so busy at 3, 4, 5 o'clock in the morning, that a group of friends ready to sober up after a night at the Spike or the Eagle's Nest—the two leather bars by the river—might find themselves having to wait 45 minutes for a table.
It was, by all accounts, really fun. The lighting made everyone look great, and people had sex in the bathroom all the time. There were drag queens on roller skates and transvestites with beautiful skin. Two of the regulars were a pair of beefy fellows who would dress up in police uniforms, trick guys they liked into thinking they were under arrest and take them home with them on their motorcycle. It was a boozy, druggy scene, inflected as much by its surroundings in scary, out-of-the-way Chelsea as it was by the winking design that marked its interior.
The night the restaurant opened for business, Ruskay and his partners threw an all-night party that drew an overflow crowd of hundreds. Nineteen seventy-six was a leap year; the party started at 6 p.m. on Saturday, Feb. 28, and kept going till breakfast the next morning. Someone dressed in a King Kong costume tromped around on the roof, theatrically swatting the air and circling the model of the Empire State Building that is still planted there today. There were actors, writers, musicians, artists, you name it—plus drag queens and lots of guys from the leather bars, some coming up from the Village and others coming down from uptown.