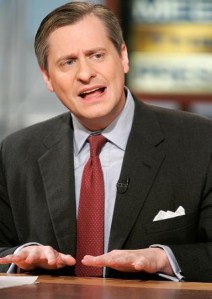 As magazines buckle these days, it's always the fault of the media landscape. Unless, of course, it's the editor's fault, too.
No one ever heard a bad word said about Ruth Reichl when Gourmet went down. But when Portfolio folded, the economy was blamed, and then Joanne Lipman was blamed, too.
But now that Newsweek's future is very much in doubt, the media world is reviewing Jon Meacham's overhaul of the magazine, and the bad reviews are now pouring in.
Howard Kurtz: "Part of the strategy was a radical redesign. I was not a fan of it, and neither, I can tell you, were a number of people who work there."
Jack Shafer: "Although I wish Meacham well in his search for investors to buy and preserve Newsweek as it is, the magazine market has already expressed its indelible opinions about his editorial vision. Any prospective buyer would obviously want to chart a new direction, not stay the Meacham course."
Michael Wolff: "The fact that its future ran out is not necessarily its fault. The fact that it was so leaden and cautious and dimwitted in its efforts to reinvent itself is. Almost anybody could have done a better job and had more of a fighting chance than the bunch who've been recently running the place." He also calls Meacham a "turgid, flaccid, and suicidally boring writer" who created a "turgid, flaccid, dead-on-arrival magazine."
Chris Rovzar: "'But virtually 100 percent of the employees under 40′" believe that Meacham is hurting the magazine, says one such print staffer. "'For a journalist, he is bizarrely incurious about the world,'" this source continues, complaining that Meacham's "'interests extend to history, politics, and … well, that's about it.'"
Rebecca Dana and Lloyd Grove: According to a Newsweek insider, staffers came away extremely dispirited from a New York meeting six weeks ago at which the results of a reader focus group on the latest redesign were presented. The presentation, for which Meacham was absent, "'was unrelentingly bad,'" says the insider. "'There was hardly anything positive about the magazine. The recurring themes were 'dull,' 'boring,' 'like doing your homework.' Everybody was thoroughly depressed.'" Both because of this overhaul and also his hectic professional schedule that veterans liken to being an "'absentee landlord,'" Meacham has drawn plenty of criticism throughout his term.
Choire Sicha: "Last night TV person Jon Stewart asked Newsweek editor John Meacham, 'Who is making money in the magazine business who does what you do? Who is a successful model?' And you can guess what Meacham said: 'The Economist.' Okay so, this is something we have heard for years now, from everyone, and it became a huge joke, and guess what? Maybe there's only room for one The Economist! Maybe your weirdly redesigned, money-losing magazine ($500,000 a week!) isn't The Economist!"
We've seen Mr. Meacham's obsession with The Economist before, too.
In an interview yesterday with The Observer, Jon Meacham said he'd try to save the magazine himself and buy it. You have to wonder if he'll have the energy after he goes through today's clips.