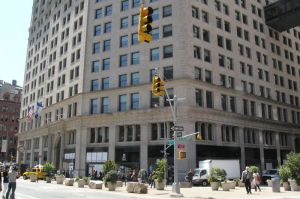 There was a time when your (almost) every whim could be satisfied by a set of New York City cross streets. Joke shops? Go to Broadway below 23rd Street. Religious paraphernalia? Vesey Street. Baby furniture? Avenue A. It was a city composed of smaller cities, microcosms of commerce vibrating against each other, a city that transformed obscure desires into coordinates.
The trade zones extended to buildings, too-great vertical bazaars abuzz with buyers and rapid-fire transactions, their showrooms laid out with taxonomic specificity. There were towers devoted just to textiles, towers exclusively for accessories, towers for gifts and, of course, for toys. Across the street from Madison Square Park, 200 Fifth Avenue, long known as the Toy Building, was an inverted plunge into Wonderland. Its contraptions, curious and curiouser, lit up, blinked and whirred to life-a kinetic carnival of engineered glee.
Its sitting rooms were magnets for industrial tycoons (Jay Gould and Commodore Vanderbilt among them), and New York's Republican leadership orchestrated state and city business from a nook known as the 'amen corner.'
Except it wasn't kids firing off the latest in model airplanes and tinkering with the new line of Colorforms. It was grown-ups in suits. The Toy Building may have been a lab of giddy delights, but it was animated more by the patenting and manufacturing of those delights, transfixed by the mercurial forces of commerce running through them.
But even before it gave itself over to the children's entertainment industry (worth, these days, about $22 billion annually), the address had something of an irresistible draw for industry. The 15-story structure, before it earned its more playful moniker, was known as the Fifth Avenue Building, a name perhaps meant to evoke some of the gilded opulence of the Fifth Avenue Hotel it supplanted.
The Fifth Avenue Hotel was known less for its accommodations (luxurious though they were, with princes and dukes among the regular patrons) than for the backroom deals cut in its stiffly upholstered corridors. Its sitting rooms were magnets for industrial tycoons (Jay Gould and Commodore Vanderbilt among them), and New York's Republican leadership orchestrated state and city business from a nook known as the "amen corner."
Edith Wharton, who was born in a townhouse across the street, made reference to the hotel in her novella New Year's Day, in which the old-money narrator reports, "[The hotel] was frequented by 'politicians' and 'Westerners,' two classes of citizens whom my mother's intonation always seemed to deprive of their vote by ranking them with illiterates and criminals."
In its earliest incarnation as an office complex, opened in 1909, the would-be Toy Building was home to one lone toy vendor. It wasn't until World War I effectively halted the flow of European imports to the U.S. that the building's toy industry began to boom. Buoyed by the country's newly transformed manufacturing landscape, the ranks of American toymakers swelled. They churned out yo-yos and hula hoops, engineered newfangled worlds of marvel and delight. They all but invented childhood itself. (Freud may have had something to say about this, too.)
At the very least, they invented a distinctly American kind of childhood, a developmental juncture no longer reserved for the privileged few. Store-bought playthings, in all their factory-new sheen, were hurtling toward the dawning of mass production. By the end of the World War II, the better part of the building was stocked with toy companies, many with nearby factories in Brooklyn and Long Island.
Soon the postwar baby boom, the rise of middle-class affluence and the imperious ubiquity of television conspired to form an entire subculture of youth-more or less interchangeable with a new culture of mass consumption. Demand for the Toy Building quickly engulfed the edifice next door, transfiguring the two-building complex-connected by a ninth-floor walkway-into what was officially called the International Toy Center.
All year it stayed dark, then in February, for the annual Toy Fair, the building shuddered into light. Its endless array of contraptions sprung into motion as suits from all over the world descended on Toyland. Packs of them stalked the halls in fighter-jet formation and sipped martinis under the watchful eyes of plush bears and life-size cartoon figures.