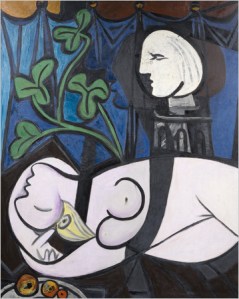 Picasso's Nude, Green Leaves, and Bust shows the artist's blonde mistress, Marie Thérèse Walter, sprawled out, a tangled mess of limbs and blonde hair, eyes closed, head bent back in ecstasy. Picasso painted it in a single day in 1932. It took nine minutes at the Sidney F. Brody sale at Christie's last night for the 4-foot by 5-foot painting—Lot 6—to break the record of any piece of art sold at auction.
I wasn't surprised. I had taken the row of black Mercedes limos in front of 20 Rockefeller Plaza as a good omen.
"Lot 6," auctioneer Christopher Burge said in a plumy, aristocratic voice. The room let out a murmur. Mr. Burge stretched his arms slowly over his podium, gave a satisfied sigh, and smiled. "The bidding starts at $58 million." A collective grin.
The scene was silent and tense. No one coughed or breathed. Someone dropped an iPhone and my heart jumped out of my mouth. As the cost approached $80 million, eight bidders from around the world were still haggling with Mr. Burge. Somewhere in the back of my mind, I thought of my student loans and shuddered visibly.
The auctioneer spoke clear and fast. "$89 million," Mr. Burge said. A long pause. He leaned his entire body over the podium. The room let out a low, disappointed "aww…" and I said "shucks" under my breath. No record broken. Then! From the telephone: "Just a second."
"Just a second? Sure!" Mr. Burge said.
I buried my face in the catalog, too stressed out to watch Mr. Burge's frenetic movements. It was my first art auction. I had picked a good one.
The price was finally settled at $95 million to Nicholas Hall, a Christie's expert who took the anonymous winning bid by telephone. Buyer's premium took the price Christie's reported up to the record breaking $106.5 million.
The audience let out a huge communal breath and began to shuffle around. Reporters were crammed together behind a giant pole. Half of them rushed out for cigarettes, or quotes. I raced around the auction room for a better view.
A total of $335,548,000 was spent last night. It was the third biggest sale in the auction house's history and four out of five artworks offered sold. Ms. Brody's collection alone fetched just over $224 million. She began collecting decades ago with a single sculpture, given to her by her husband as a Christmas present.
"We're part of a process in which collections are being made," Christie's expert Matthew Stephenson said to me after the sale. He'd spent the night on the phone, calling in bids. "For five or six weeks we spend time with these objects, building up towards the sale. It all comes out to an hour on the auction block. That's the exciting part. You see a collection through."
As for the Brodys, whose collection just became the biggest single owner sale in the history of New York? "They went on a very exciting journey," Mr. Stephenson said. "People can still do that." Perhaps, after repaying those student loans.