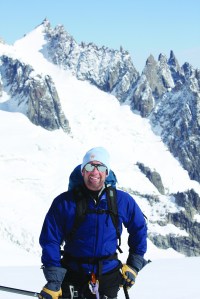 Hurl a dart at a map, and chances are wherever it lands, Mitti Liebersohn, a Cushman & Wakefield vice chairman, has inked a high-profile deal there.
Indeed, the charismatic frequent flier estimated last week that he currently has 500,000 square feet in commercial real estate transactions pending in San Francisco, Chicago, Dallas and Miami, among other far-flung locales he's visited since the beginning of the year.
For Mr. Liebersohn, who typically deals on behalf of large corporations with portfolios of up to 300 offices, travel to foreign countries and other U.S. cities is a routine part of his job that occurs as often as four times a month.
"I love traveling around the country; I love being in touch with what's going on in all the markets; and, to me, it's just so much more interesting," said Mr. Liebersohn, 51, who, as you're reading this, will be in Miami working on behalf of a business suites group seeking to expand nationally.
But with leasing activity increasing dramatically from the first quarter of 2009, Mr. Liebersohn, who typically inks between 150 and 200 deals a year, anticipates even more time in the friendly skies, thanks in part to a handful of pending deals. Since last summer, he has tallied nearly 1 million square feet, both in New York and globally, and the activity isn't expected to slow down.
"This year has been incredibly busy, and it's been incredibly exciting," said Mr. Liebersohn, who added that he is regularly assisted by a team of 15 colleagues at Cushman & Wakefield.
Most conspicuous of his recent deals may be a well-publicized, 415,000-square-foot renewal on behalf of long-held client New York Life Insurance Co. Inked in December, the deal at 63 Madison Avenue is believed to have been the second largest of 2009. Weeks later, he tallied another deal for the insurance company when he inked a 200,000-square-foot lease in Mexico City for what will become the group's Latin American headquarters.
More recently, the former Riverbank Realty co-founder finalized a 150,000-square-foot relocation deal last month for Watson Pharmaceuticals. The deal shifted the pharmaceutical company from Morristown, N.J., to Parsippany.
Meanwhile, back in New York, the broker followed up a 41,000-square-foot relocation deal in 2009 for the media company Everyday Health with an expansion move for the growing company earlier this year. The company, which was formerly called Waterfront Media, moved from Dumbo in Brooklyn to 345 Hudson Street in September.
Negotiating deals in a constantly changing array of regions and markets, it seems, is what Mr. Liebersohn does best at Cushman.
"In the company and certainly within this team, that's my role," said Mr. Liebersohn, a father of two boys who lives in Chappaqua. "In this role, you have to be in tune with the business drivers of these national firms. It's not one-off transactions. You need to understand the type of properties they want to be in-or not be in."
MR. LIEBERSOHN WAS BORN in Israel, his father a Holocaust survivor who watched most of his family perish in a concentration camp in Germany. By the age of 6, Mr. Liebersohn had relocated with his father to Australia. Then, while he was still under drinking age, he spent brief stints in California, Iowa and Pennsylvania, before finally settling in Long Island.
It was Mr. Liebersohn's maternal grandmother who prompted the family's frequent travel with each new educational position she accepted, in cities as far-flung as Des Moines, Iowa.
"When you have to move around like that, you can't help but learn how to interact with people," reasoned Mr. Liebersohn, whose given name is Amit. "When you go to new schools all the time, you're either going to shut down or learn how to interact, and I learned how to interact with people."