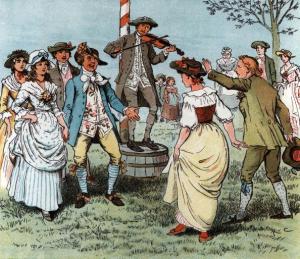 On Saturday morning, May Day, we announced to friends that this would surely be the best day of all our lives. Nothing invigorates us like warm weather and sweeping pronouncements.
We will not comment upon the success of the best-day plan, but we certainly tried our hardest. Orchestrating the Best Day of Our Lives required a lot of planning: a program of carefully choreographed leisure, ideally incorporating some reading time in parks (we have been meaning to see what's what with Tom Rachman's The Imperfectionists).
Over the course of the weekend, we ultimately experienced the still-novel sensation of sweatiness in Williamsburg, East Williamsburg, the East Village, the Lower East Side, Nolita, Soho, Williamsburg again, the Upper East Side, the West Village and Greenpoint. It had become important to drink beer on as many patios as possible.
In our vigorous strolling, we encountered the insane line outside the Shepard Fairey MAYDAY exhibition. We certainly had no time to wait there! Also along the way, a friend pointed out the many Momofuku locations where we cannot afford to eat–Ma Peche has only just opened for dinner; thus we add another to the list. Likewise, the $12 cups of coffee recently introduced at Café Grumpy were not under consideration, although we did go for some Blue Bottle iced coffee ($4.50).
By Saturday night we were drunk and deep in Greenpoint, a set of circumstances that conspired to make us feel very far from real life. We were at the restaurant where a dear friend cooks-perhaps not a James Beard award winner yet, but surely the time will come. Just off Franklin Avenue, Greenpoint was picturesque and weirdly unfamiliar: Making it to the n+1 release party had begun to look like an unlikely prospect. Where did we feel like we were, exactly? There were some good bricks and shutters going on. Maybe Philadelphia or Montreal or Washington, D.C., we and our companions suggested, naming several cities in which we had spent little to no time. Yes, we all agreed, embarking upon a fresh bottle of wine: Washington, D.C. Probably that was it.
Meanwhile, in actual Washington, D.C., the White House Correspondents Dinner was taking place. From what we understand, the White House Correspondents Dinner is pretty much exactly how we like to imagine famous people operating: all hanging out together in nonsensical combinations, bound only by shared celebrity. David Remnick and Tracy Morgan? Sure. Justin Bieber? Why not. Let's all go hang out at the White House and talk about some famous-person things. This all sounds sort of surreal and dorky, and for that we like it, even if the Met gala on Monday night was the adult-prom's cooler New York incarnation.
In our Greenpoint oasis, we were insulated from everything-even the news of an almost-bombing in Times Square, which we heard about only later, from our mother. We were in a strange paradise accessible only by G train, train of fools, on which a conductor actually died last week.
We took a black cab home and passed out after watching Reality Bites, reflecting that, Best Day of Our Lives or not, reality was not too bad. Most things that we anticipate–like a gay non-celebrity coming out in People or the Hold Steady's new album–eventually disappoint. Summer, however, does not.