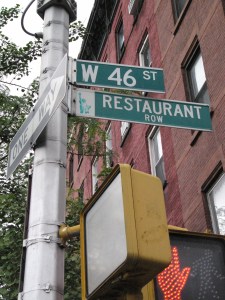 John Wilwol, 31, recently lived in a penthouse near 51st Street and Ninth Avenue that had four bedrooms, three bathrooms, two private balconies and access to a roof deck. Pretty sweet digs for a graduate student. And, to boot: "The value was great."
And the apartment was suitably impressive for men of a certain age and the women they hope to, uh, court, shall we say. "It certainly worked for my roommates," said Mr. Wilwol carefully—he himself is happily married. "Especially when it came to—God—the bridge and tunnel crowd."
Indeed, a growing subspecies of midtown west—the far West Side, Hudson Yards, Clinton, Hell's Kitchen, whatever you would call it—is that of the single, young man of, while not affluent means, certainly potentially affluent means. It's the last bit of Manhattan where they can afford to impress.
Call it a neighbrohood.
"Women won't move here because it's so far from transit," said Brian Maloney, 29, Mr. Wilwol's old roommate. He works for a bank and has lived in the area for five years. The penthouse still produces ancillary benefits. "One of my roommates has become what you might call a 'deal-closer.'"
"THERE ARE A LOT of things that are known to have happened here," says the bartender at Druids, intimating that this bar was a hangout for various gangs back in Hell's Kitchen's grittier days. "But that head thing—nobody knows for sure."
And while his denial that a decapitated head was ever actually rolled down this bar is comforting, it seems well-rehearsed. The history of Hell's Kitchen is a beloved topic for Druids' patrons, who, on this recent Thursday, were all single men who live within 10 blocks.
The men of Hell's Kitchen are not your conventional gentrifiers, though. There are no thick-rimmed glasses, and the bookshelves precariously situated around Druids are not there to create ambiance. This is an old bar and it is for drinking, not for being seen. These men moved here for strictly pragmatic reasons: affordable rent and a convenient location if you work in midtown.
Chris Picirillo, 28, works for a Japanese bank. He moved here—for the "relatively new building and because it's close to work"—six years ago, and stays for the neighborhood. Matt Quirk, also young, single and in finance, says the appeal is the combination of "old-timers and new-timers" living in harmony.
SLIDESHOW > WHERE THE BROS HANG IN MIDTOWN WEST
It's a natural choice of neighborhood for them. They aren't afraid to walk on 11th Avenue at night; they don't mind the Hustler Club; and drinking in a neighborhood where Robert DeNiro and Francis Ford Coppola have is some sort of affirmation of their masculinity.
IN THE LAST 15 years, the previously working-class area began to change as gays spilled over, priced out of Chelsea to the south. But the gays have receded, supplanted, according to Mr. Maloney, by people like himself (ironic that in this instance it is hetero males who have pushed out their homosexual brethren). But the neighborhood is still what they call "transitional."
"You hear [real estate brokers] giving their spiel: 'It's the hottest neighborhood, etc.' And you're like, 'Yeah, but there's a gang that just stabbed a guy right down the street,'" Mr. Maloney says. "People are blinded by new construction."
And the real estate—massive, downright phallic bursts upon the Gotham skyline: TF Cornerstone's recent 505 West 37th and 455 West 37th. Glenwood's planned luxury rental on 39th Street, between Eighth and Ninth. Silverstein's Silver Towers encompasses the whole block at 42nd Street between 11th and 12th avenues.
They offer gorgeous views, but I find it odd that one of the model apartments at 505 West 37th is decked out for a young family. When I toured the building, the other reporter there had a piece of advice for the developer: "Cut the hard baby sell and go after the only guys with money to burn-young Wall Street types. When they move, it's all about the views and whether it'll impress the girls." (In fact, she inspired this story.)
But what draws newcomers and what keeps them here could be different matters entirely. Mr. Wilwol says that for him there was but one reason: "It was Manhattan, but not too gentrified."
And the area is surprisingly friendly, even… neighborhood-y. At Druids, everyone knows one another, and delights in regaling me with tales of the, err, rich history of the area. The stories are probably augmented for the benefit of the women at the bar, who are outnumbered 10 to 1 by men, and all (three of them) live somewhere else. More men offer to buy me a beer here than have at any one time in the last five years, but I don't feel preyed upon. Which is weird, since I am in midtown west.
So why should you move here? The reasons are simple but profound: Irish bartenders who truly appreciate your business; a colorful (though perhaps exaggerated) history; prime views; and maybe a walk-able commute. And, for the brave single girl, an almost inexhaustible supply of suitors.
PREVIOUSLY ON THERE GOES THE NEIGHBORHOOD > LESBIANS IN KENSINGTON