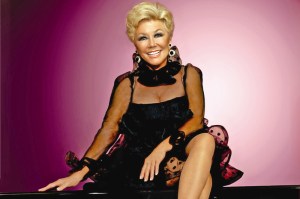 Mitzi!
Only one name is necessary, I guess. I mean, it's really Franceska Mitzi Marlene de Charney von Gerber, but there is only one Mitzi. And after 60 years of circling New York, sniffing it warily and flirting from a safe distance, Mitzi Gaynor has finally taken a man-size bite out of the Apple, from the deep end of the pool. There are stars, and then there are supersonic, stratospheric superstars. Not many come along in a show-business lifetime, but when they do, get there fast.
She peaked in the movie musicals of the 1950s, then made ratings history with 10 years of glitzy, ritzy, record-breaking specials that revolutionized television in the 1960s. It's understandable if she's unfamiliar to some of today's younger audiences, unless they are fans of classic movies. But the sumptuous tour of her life and career that makes up the show she calls "Razzle Dazzle! My Life Behind the Sequins," at Feinstein's at Loew's Regency (through May 29), is funny, nostalgic, poignant and a total star-spangled package of energy and joy. This show is so big it had to be moved to the grand ballroom, a space that is still not big enough to properly showcase the range of someone as talented, versatile and dynamic as Mitzi Gaynor. Craftsmanship holds it all together like Elmer's glue.
Singer, actress, dancer, newspaper columnist, Las Vegas headliner, concert star-she's done it all, and this show is a banquet of a collage that gives you a taste of the whole buffet. Specially chosen film clips from her eye-popping TV specials are interspersed with scenes from her movies with Gene Kelly, Donald O'Connor, Ethel Merman, Frank Sinatra, Betty Grable, Marilyn Monroe and others. She opens in a sailor suit, singing and dancing "Honey Bun" from her most famous film of all, the legendary South Pacific. She kids sex, but she can still mount a grand piano with one leg exposed. She can do any accent, sing any tempo and tell a joke with timing that will make you howl. When she sings "Everything Old Is New Again," the packed house yells in agreement. She's still got sex appeal (she moved to Hollywood at 11 years old and was already wearing a bra). Changing into a spectacular wardrobe of fashions designed by Bob Mackie, she's the best-dressed woman in show business. You get insight into her affair with Howard Hughes and her enduring marriage to agent Jack Bean, who became her manager, lover, producer, protector, boss and best friend. The marriage lasted 52 years. (And in Beverly Hills, no less.) Tears form when she talks about the years before he passed, but she leavens the nostalgia with humor. "I called him Daddy. He called me Yummy. Couldn't you just throw up?" Then she launches into a riotous anecdote about the night they spent with the Duke and Duchess of Windsor and Ethel Merman-the unlikeliest trio ever invented. My favorite story was the re-creation of her opening act-two illusionists (and a duck) who were so hungry they ended up eating their act. You had to be there.
People over 70 are always retiring. Not Mitzi. The voice may not be what it once was, and there's no room to dance, but when she tells her stories and shakes those beads, she does it not only with all of her spectacular attributes in place, but also with her heart. Don't kid yourself. You won't see her in the garden at her house in California, up to her elbows in cow manure. When she gets her face on, she's still camera ready for a close-up. She's one of the funniest broads in show business. She redefines what Kay Thompson used to call "Bazazz." And she always looks like she's in Technicolor. Gower Champion once told me, "The trouble with Mitzi is nobody can peg her. She doesn't do just one thing well. She does it all." So call her whatever you want, but don't call her vanilla. We're not getting any younger. But in a time of global, financial and medical disaster, she's the apple a day to cure whatever ails you. Her vibrant, vivacious zest for life provides musical justification for bringing almost everyone in the room to their feet with screaming ovations. Creative, daring, innovative, glamorous, colossal and one of a kind, Mitzi Gaynor is the real deal. She still razzles. She still dazzles. And she's still here. Run don't walk, and catch her while you can.
Mitzi Gaynor: Razzle Dazzle!
My Life Behind the Sequins
Feinstein's at Loew's Regency