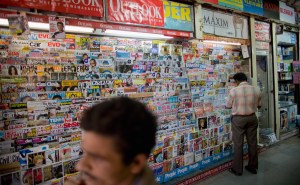 When Mel Kamarzin sat down with Google founders Eric Schmidt and Sergey Brin and CEO Larry Page to talk about the advertising business in 2003, he explained that to keep the art of advertising alive and well it was important that advertisers not know the exact returns on their investments.
"You're fucking with the magic!" Kamarzin told them, according to Ken Auletta.
Seven years later the illusion is over, and not just online.
Time Inc. is partnering with ad buyer Starcom MediaVest Group in an effort called the "Alliance for Magazine Accountability" to promise advertisers certain quantifiable returns (for example, a percentage of readers who will remember seeing their ad), according to Advertising Age.
"We've been preaching that magazines engage readers like no other media," said Stephanie George, exec VP at Time Inc., which publishes magazines including Time, People, Sports Illustrated and Fortune. "So today, in a crowded media market, when it comes to accountability, the work from this Alliance will help prove magazines' advertising effectiveness."
Under the arrangement, if a Time Inc. title falls short of the metrics promised to the advertiser, it will run ads for free until the conditions of the sale are met.
Most magazines only guarantee paid circulation, but some like The Week, which was one of the only titles to increase ad pages in 2009, already promise reader recall scores to advertisers if they invest enough in the magazine.
The Week began a program in 2007 called "Total Transparency" to woo advertisers with market research showing how effective ads in the magazine would be compared to spots in other titles. In 2009, The Week extended the program to guarantee reader recall rates to advertisers certain advertisers.
"I think our emphasis on Total Transparency — that program — did help us drive the ad wins of 2009," said Steven Kotok, president of The Week to the Observer.