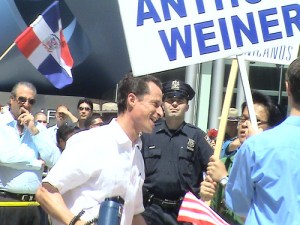 10 a.m. Steve Greenberg and possibly a special guest talk to Fred Dicker.
11 a.m. Michael Bloomberg and Janette Sadik-Khan attend the opening of a new asphalt plant, at 30-01 Harper Street, in Queens.
11 a.m. Anthony Weiner and others hold a hearing on head injuries in football, at 1 Bowling Green.
Noon. Christine Quinn announces the launch of a Veteran's Web Portal, at City Hall.
Noon. Grace Meng and others hosts the Asian Pacific American Legislative Advocacy Day, in the Well of the LOB, in Albany.
12:30 p.m. Congress considers Jerry Nadler's resolution about HIV prevention, and Tim Bishop's bill about financial aid awareness month.
2:45 p.m. Quinn attends the Dept. of Education's 'No Place for Hate' ceremony, at 52 Chambers Street.
5:30 p.m. Bloomberg hosts a reception for New York Urban League's 90th anniversary, at Gracie Mansion. Quinn and others expected to attend.
6:45 p.m. Quinn attends Origin Theatre Benefit Showcase, at 320 Park Avenue.
7:30 p.m. Bloomberg speaks at the Manhattan Theatre Club's spring gala, at 110 East 42nd Street.