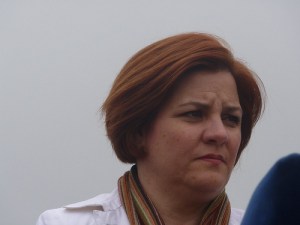 10 a.m. Dan Donovan talks to Fred Dicker.
10 a.m. The Council will hold a hearing on the city budget, focusing on government operations, in the City Council Chambers at City Hall.
10 a.m. David Paterson, Christine Quinn and others attend the Hudson River Park Pier 62/63 Ribbon Cutting, at West 23rd Street and the West Side Highway.
10:05 a.m. John Sampson appears on 98.7 KISS FM.
11 a.m. Kirsten Gillibrand tours the Whitney Museum of American Art with veterans.
11 a.m. Michael Bloomberg announces new rules for debt collectors, at 76 Wadsworth Avenue.
11:40 a.m. Quinn attends Israeli Flag Raising Ceremony at Bowling Green Park.
11:45 a.m. The City Council host a budget hearing focusing on services for the elderly, at the City Council Chambers at CIty Hall.
12:15 p.m. Sheldon Silver speaks at the Disabilities Awareness Day Luncheon, in the well of the LOB in Albany.
12:30 p.m. Quinn speaks at Bottomless Closet 11th Annual Spring Luncheon, at the Marriott Marquis.
1:15 p.m. The City Council has a budget hearing focusing on juvenile justice, at the City Council Chambers in City Hall.
2 p.m. Silver introduces legislation honoring officers who thwarted the Times Square bombing, in the Assembly Chambers in Albany.
3 p.m. Fernando Cabrera protests proposed closing of senior centers in his district, on the City Hall steps.
4:15 p.m. Quinn tours City Year after-school program, at 31-51 21st Street, in Queens.
5:30 p.m. Fernando Tirado announces his State Senate candidacy at Mosholu Parkway and Hull/Mario Avenues.
5:30 p.m. Gale Brewer hosts an open house in her district office, at 563 Coumbus Avenue.
6 p.m. Bill Samuels hosts a screening of Gerrymandering, at 241 West 14th Street.
6 p.m. Liz Robbins and Doug Johnson host Rep. George Miller of California for a fund-raiser.
6:15 p.m. Bloomberg attends reception for Federation Employment and Guidance Service Health and Human Services System, at 110 East 42nd Street.
7:30 p.m. Bloomberg speaks at the New York League of Conservation Voters 2010 Spring Gala, at Pier 60 at Chelsea Piers.
7:30 p.m. Republicans running in the 14th Congressional district have a debate, moderated by me, at 140 East 27th Street.